When to find the cheapest flights to Helsinki
outbound:
19-Aug-2022
direct (2h50m)
Finnair
return:
21-Aug-2022
direct (3h10m)
Finnair
Choose your departure month
Helsinki guide: how to get there, what to see
Distance from Helsinki city centre
7 mi
10 mi
Flights to Helsinki: practical information
Cheap airlines to Helsinki
Helsinki-Vantaa International Airport (HEL) is the main airport in Finland, welcoming flights from around the world. Finnair, KLM, British Airways and more offer cheap flights to Helsinki from the UK.
When to book flights to Helsinki
Summer is peak tourist season in the Finnish capital, something to keep in mind when planning your holidays in Helsinki. If you plan to visit from June to August, make sure you book your Helsinki flights at least four months in advance for the best deals.
Peak season: Summer, when temperatures are warm.
Low season: Winter and fall.
Flight duration
Direct flights to Helsinki take just under 3 hours from London.
Experience Helsinki: what to see, what to do
Helsinki is a treat. Founded in 1550 this city has been the capital of Finland only since the 1800s when it was rebuilt by the Russian tsars. Can you see the resemblance between Helsinki and St. Petersburg?
Essentials in Helsinki
Suomenlinna: So-called "Gibraltar of the North", this was once the greatest fortress in the Baltic Sea and dates back to the 1700s. Today you can tour the old buildings, catacombs, fortifications and more. Entry is free but the ferry ride to reach it isn't.
Kaivopuisto: For fresh air, head to Kaivopuisto, a beautiful park by the seaside on the southern part of Helsinki. There are a number of seaside cafes to sit down at and watch the promenade and the sailboats bobbing up and down in the water.
Neo-classical architecture: Helsinki is an architectural masterpiece, especially if you love the neo-classical period. Start in Senate Square where a statue of Alexander II stands. Aleksanterinkatu and the train station are also fine examples of the neo-classical style.
Find more information on Visit Helsinki.
Accommodations in Helsinki
Hotels in Helsinki tend to be on the expensive side compared to nearby countries but generally they're cheaper on weekends when the city's business travellers are away. The city doesn't disappoint however in the budget category with plenty of cheap hotels and youth hostels to go around.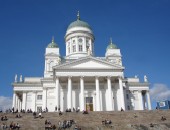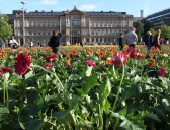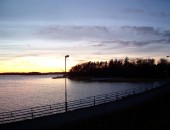 Helsinki in the Traveller's Magazine
Travel Inspiration
On a budget, but dying to experience Helsinki's charms and sights? Here's a guide to help you experience the Finnish capital on a budget.
Travel Tips
You have more chances of getting your purse back in Helsinki than Lisbon, in Bombay than Madrid and in Budapest than in Prague. Check out this list of the world's most honest (and dishonest) cities according to America's Reader's Digest. How do you measure a city's honesty? Reader's Digest had a good idea. Their methodology … Continued
Travel Tips
Travel by rails still ignites a traveller's spirit. Vast expanses, the lurch of the train forward as it leaves the station. The dining car and the possibility to meet someone, ignited by Before Sunrise. If you're bound for the rails, depart from one of the world's most beautiful stations. New York's Grand Central New York's … Continued
All flight tickets to Helsinki (Finland)
outbound:
29-Oct-2022
1 stop (13h55m)
KLM
return:
05-Nov-2022
1 stop (8h45m)
KLM
outbound:
19-Aug-2022
direct (2h50m)
Finnair
return:
21-Aug-2022
direct (3h10m)
Finnair