When to find the cheapest flights to Honolulu
outbound:
15-Sep-2021
1 stop (17h35m)
Air Canada
return:
29-Sep-2021
1 stop (26h55m)
Air Canada
Honolulu: san, sun, beach... paradise
| | |
| --- | --- |
| | Honolulu city centre |
| | Honolulu International Airport (HNL): 4 mi from city centre |
Flights to Honolulu: practical information
Cheap airlines to Honolulu
Spending your holidays in Honolulu? Not a bad choice! The largest city on the island of Oahu is beautiful, especially Waikiki Beach. Start your trip planning with cheap flights to Honolulu International Airport (HNL) onboard Hawaiian Airlines, Delta Air Lines, KLM, US Airways, United, among plenty of others.
When to book flights to Honolulu
Honolulu is moderate and tropical year-round so there's no really bad time to book a trip to Hawaii. Waikiki is almost always sunny and if it is going to rain, it'll be in the hills or the eastern side of the city (winter only).
Peak season: Winter months are most popular and during American holidays (Spring Break, Thanksgiving, etc.
Low season: Spring, April to June and fall, September to December.
Flight duration
Flights to Honolulu take at least 20 hours with stopovers from London.
Experience Honolulu: what to see, what to do
This is the first place most all visitors will land when they first arrive to the Hawaiian islands. The place to be is definitely in and around Waikiki Beach, the most popular tourist destination on the islands.
Essentials in Honolulu
Beaches: Waikiki Beach is always first on every visitor's list with its white sand and warm waters. It can also get very crowded. To get away from the crowds, try Ala Moana Park. The water is calmer and is fronted with a beautiful park.
Pearl Harbour: This is a popular spot if you're interested in history, located on the western part of the city. Today the harbour still functions as a naval base. There is a touching memorial and visitor's centre.
Diamond Head: If you're after some pretty stunning scenery and views, look no further. This ancient volcanic crater dominates and offers the best views over Honolulu. Follow the trail up and you'll also find a WWII bunker.
Find more information on Go Hawaii.
Accommodation in Honolulu
Most visitors will stay in and around Waikiki Beach, that's where most of the hotels are located. When the winters are rough, Americans head south so book your hotels in Honolulu well in advance if you plan to visit from December to March.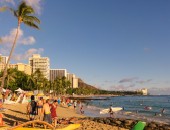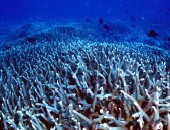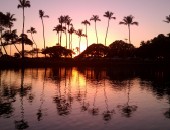 All flight tickets to Honolulu (USA)
Sorry! We haven't found any flights to Honolulu. Try launching another search above.