When to find the cheapest flights to Inverness
outbound:
23-Aug-2022
direct (1h30m)
easyJet
return:
25-Aug-2022
direct (1h20m)
easyJet
outbound:
29-Sep-2022
direct (1h40m)
British Airways
return:
05-Oct-2022
direct (1h25m)
easyJet
Inverness guide: how to get there, what to see
| | |
| --- | --- |
| | Inverness city centre |
| | Inverness Airport (INV): 8 mi from city centre |
Flights to Inverness: practical information
Cheap airlines to Inverness
Scottish Highlands, here we come! Inverness is the hub of the Highlands and the perfect place to discover the great Scottish countryside. Flights to Inverness Airport (INV) with the likes of British Airways, Flybe, easyJet, Eastern Airways, Aer Aran and Highland Airways.
When to book flights to Inverness
Looking for the cheapest flights to Inverness? Search for flights in early spring or last summer as summer flights tend to be the most expensive, when tourism is at its peak. Booking three months in advance is ideal.
Peak season: Summer, particularly June and July.
Low season: Winter, autumn.
Flight duration
Direct flights to Inverness take 1 hour 30 minutes from London.
Experience Inverness: what to see, what to do
Inverness is right in the heart of the Scottish Highlands and the perfect place to base yourself if you're hoping to take shorter trips into the countryside. Sights to see include castles, incredible islands and a dolphin or two.
Essentials in Inverness
Moray Firth: Want to go dolphin spotting while on holidays in Inverness? Head to Moray Firth to watch the Bottlenose Dolphins, Harbour porpoises, Mink whales and others from Chanonry Point.
Ness Islands: There are few places more beautiful in Scotland than the Ness Islands. Hire a car in Inverness to get there and tour the islands and waterside by bike or on foot.
Inverness Castle: Probably the most prominent sight in the city, Inverness Castle was only built in 1847 to replace the former medieval castle that was blown up by the Jacobites. Today it houses the Sheriff Court so the only way to see the inside is to get yourself in trouble (which we obviously don't recommend).
Find more information on Visit Scotland.
Accommodations in Inverness
Inverness has a wide range of options with it comes to accommodation. From luxury historical estates like Culloden House Hotel to more budget options like the mid-range guesthouses in the city centre. Bed and Breakfasts are popular among young couples while backpackers and travellers on a budget should skip the Inverness hotels and stick to hostels.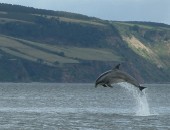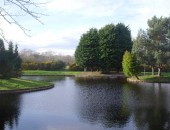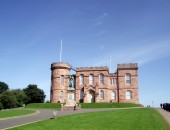 All flight tickets to Inverness (United Kingdom)
Sorry! We haven't found any flights to Inverness. Try launching another search above.