When to find the cheapest flights to Kiev
Sorry! We haven't found any flights to Kiev. Try launching another search above.
Kiev guide: how to get there, what to see
Distance from Kiev city centre
4 mi
18 mi
Flights to Kiev: practical information
Cheap airlines to Kiev
From London and the UK it is possible to fly to Kiev with WizzAir, Lufthansa, KLM, Ukraine International Airlines and AeroSvit Ukranian Airlines. Of course, the cheapest flights are offered with low cost airline, WizzAir. Borispol International Airport (KBP) serves more than 61 destinations in 29 countries and is the main airport for Ukraine destinations, Kiev most of all.
When to book flights to Kiev
Kiev is one of the oldest cities in Europe and attracts a lot of visitors for many different reasons. Summers tend to be warm but not too hot while winters are bitterly cold. Plan your holidays in Kiev for spring or fall.
Peak season: Early summer to September.
Low season: November to February, winters.
Flight duration
Direct flights to Kiev take 3 hours 25 minutes from London.
Experience Kiev: what to see, what to do
Famed for its historic past, the city of Kiev is a fascinating destination to visit. Many people remember Kiev for Chernobyl, WWII and the Soviet rule in the past. Today, Kiev is the capital city of the Ukraine and the centre of splendid Ukrainian culture.
Essentials in Kiev
Chernobyl Museum: At the top of the sightseeing list is the Chernobyl Museum, a moving display of Europe's biggest nuclear tragedy.
Percherska Lavra: Percherska Lavra is a cave monastery from the 11th century, dug out by monks who lived there as hermits. It's a fascinating place with complex tunnels and cave rooms where the remains of mummified monks lay.
Kiev culture: Walking around the city is the best way to explore the treasures hiding here. Start your walking tour at St. Michael's Cathedral and catch the funicular down to the grid-like streets of Podil which was a merchant district in the old times but today is a chic restaurant district. People-watching in Kreshchatyk is endless fun while for something more cultural, catch a traditional service at one of the city's Orthodox churches.
Find more information on Travel to Ukraine.
Accommodations in Kiev
There is a wide range of possibilities when it comes to accommodation in the Ukrainian capital. Search for your hotels in Kiev well in advance. Most budget hotels are well equipped with Wi-Fi and hostels with communal kitchens and staff that speak several languages.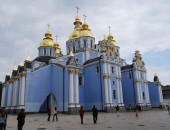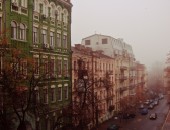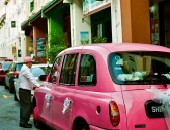 Kiev in the Traveller's Magazine
Travel Inspiration
Ready to be spooked? Check out these 5 destinations around the world with modern buildings left to ruin. Traces of old life still linger...
Travel Inspiration
Kiev is set to host next summer's Euro 2012 Football Championship and it's the best excuse a sport's fanatic can have to also discover the Ukrainian capital between matches. Here's a little guide!
Travel News
For the first time in 30 years this Ukrainian city will be open for tourism. Chernobyl, once the site of of a largest ever nuclear disaster, this red zone has now been deemed safe. Ukraine's newest tourist attraction will make its way into numerous tourist brochures and guide books next year following the decision made … Continued
All flight tickets to Kiev (Ukraine)
Sorry! We haven't found any flights to Kiev. Try launching another search above.