When to find the cheapest flights to Koh Samui
outbound:
18-Feb-2022
2 stops (23h10m)
Qatar Airways
return:
06-Mar-2022
2 stops (23h25m)
Qatar Airways
Koh Samui guide: how to get there, what to see
| | |
| --- | --- |
| | Koh Samui city centre |
| | Samui Airport (USM): 5 mi from city centre |
Flights to Koh Samui: practical information
Cheap airlines to Koh Samui
Koh Samui is an island paradise; it's no wonder you're looking for cheap flights to Koh Samui in Thailand! Find flights to Koh Samui Airport (USM), the only airport on the island with airlines like Singapore Airlines, Finnair, Qatar Airways and even KLM.
When to book flights to Koh Samui
While Thailand has monsoon season, Koh Samui stays dry which is why holidays in Koh Samui are more expensive between April and September, but especially January to March. Wet season is bet avoided.
Peak season: January to March.
Low season: During monsoon, October to December.
Flight duration
Flights to Koh Samui with one stopover take at least 13 hours 30 minutes but generally longer.
Experience Koh Samui: what to see, what to do
It's no wonder so many travellers from around the world book holidays in Koh Samui, the island is gorgeous and the beaches are beautiful. There are even a few curious tourist sights to see along the way too.
Essentials in Koh Samui
Chaweng Beach: This is probably the most popular beach on Koh Samui and is packed when tourist season arrives. You'll find it all here, even Irish pubs and Italian pizzerias. For rowdy parties, stick around at this beach after dark.
Namtok Hin Lat: Take your Koh Samui car hire for a trip to see this waterfall. The stream falls over several levels, creating different pools that are perfect for swimming in. It makes a nice day trip if you're getting a bit tired of the beach.
Grandmother and Grandfather rocks: Probably most strange of all the sights and things to do is a trip to see these rocks on Lamai Beach. They strike a very close resemblance to the female and male sexual organs and have thus been turned into the most interesting attraction around.
Find more information on Tourism Thailand.
Accommodations in Koh Samui
Koh Samui is not lacking when it comes to hotel accommodation. There are some 60,000 rooms and it is quite easy, even in peak season, to find a suitable place to fit your budget. If you're looking for a peaceful rest, best not to choose a hotel in Koh Samui that is close to Chaweng or Lamai Beach.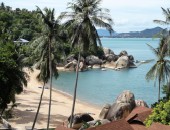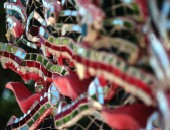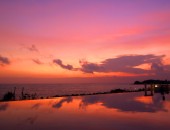 All flight tickets to Koh Samui (Thailand)
Sorry! We haven't found any flights to Koh Samui. Try launching another search above.