Find the cheapest flights to Kosovo by date
outbound:
11-Feb-2022
1 stop (22h15m)
Ryanair
return:
27-Feb-2022
1 stop (19h30m)
easyJet
Kosovo: from Pristina to Brod and beyond
Flights to Kosovo: practical information
Cheap airlines to Kosovo
Europe's most disputed country is on the rise as one of the continent's most exciting tourist destination. Looking for cheap flights to Kosovo? Tyrolean Airways, Pegasus Airlines, Swiss, SAS, among others, all offer cheap flights to Kosovo's main airport in Pristina (PRN) from London.
When to book flights to Kosovo
The seasons in Kosovo are just like the rest of the continent with very warm summers and cold, sometimes snowy, winters. Late-spring and early summer are the best times of the year to plan a holiday in Kosovo, before the days get too warm for sightseeing. Book your flights to Kosovo at least 3 months in advance.
Peak season: April to June.
Low season: Winters.
Flight duration
Direct flights to Kosovo take just under 6 hours from London.
Experience Kosovo: what to see, what to do
Since Kosovo declared independence in 2008 the country has been finding its feet but curious travellers have been discovering emerging city of Pristina, trekking around the mountains and touring the 13th-century Serbian monasteries. If it's adventure you're after, a holiday in Kosovo is just the thing.
Essentials in Kosovo
Brod: Brod is one of the most beautiful villages in the country. It's small, but it's stone houses and dirt roads will take you back in time. Don't miss taking a horse-back ride up into the mountains.
Gjakova: This was one of the cities worst hit by the Kosovo War so there isn't much to see in terms of architecture or attractions. The thing that Gjakova is known for though, is its nightlife.
Peja: Hikers and trekkers won't be disappointed by Kosovo's mountains. Peja is the best place to base yourself if you want to explore the Bjeshket e Nemuna Mountain. In the winter, it's a great place to ski.
Find more information on Be in Kosovo.
Accommodation in Kosovo
Hotels are not hard to come by in Kosovo, particularly in Pristina, but you can expect prices to be on par with surrounding countries. Hotels in Kosovo drop dramatically in price when you travel outside the capital and stay in smaller cities and more rural areas.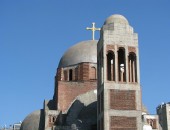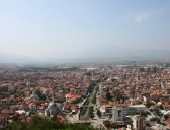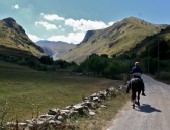 All flight tickets to Kosovo
Sorry! We haven't found any flights to Kosovo. Try launching another search above.