When to find the cheapest flights to Krakow
Sorry! We haven't found any flights to Krakow. Try launching another search above.
Choose your departure month
Krakow guide: how to get there, what to see
| | |
| --- | --- |
| | Krakow city centre |
| | John Paul II International Airport Kraków-Balice (KRK): 7 mi from city centre |
Flights to Krakow: practical information
Cheap airlines to Krakow
Krakow-bound? Find cheap flights to Krakow's John Paul II International Airport Kraków-Balice (KRK) with low cost airlines and you're set. There are direct flights from London and across the UK to Poland's cultural capital year-round.
When to book flights to Krakow
Krakow is worth a visit. We'd even go so far to say that it's a better trip than Warsaw. The Polish summers can be very hot so most spend their days in the shade of a park or sipping iced coffee at an outdoor cafe.
Peak season: Summer.
Low season: Winter, but spring and fall are the best times to visit in terms of weather.
Flight duration
Direct flights to Krakow take 2 hours and 30 minutes from London.
Experience Krakow: what to see, what to do
The former capital of Poland is a major industrial, economic and particularly cultural centre in the country. Krakow's charm is all in the details, don't be afraid to duck off the main streets and discover something out of the guide books while on holidays in Krakow.
Essentials in Krakow
Old Town: Krakow boasts a historic quarter charming enough to be an UNESCO World Heritage sight. Take a walk and discover the city's main attractions like St. Mary's Church and the Florian Gate. You should also stop by the Wawel Castle and the nearby marketplace while you're wandering.
Wawel: Wawel is the hill in Krakow. On top of it you can easily spot the Royal Castle all over the city. This was once the residence of the Polish kings. The cathedral here is also worth visiting, where Pope John Paul II worked before his days in the Vatican. If hills aren't your thing, consider using your Krakow car hire to get to the top.
Kazimierz: After you've been to the Old Town, head here. Sights to see include the Remuh Synagogue built in 1557, Centre for Jewish Culture, Ethnographic Museum and the Old Synagogue, the oldest in Poland.
Find more information on Krakow.pl.
Accommodations in Krakow
Krakow hotel prices have really risen in recent years in response to the city's growing popularity as a tourist destination. Most of the backpacker hotels and cheap budget hotels are located in Kazimierz and the Old Town. Bigger hotels are mostly located on the banks of the Vistula River.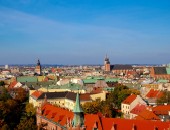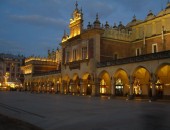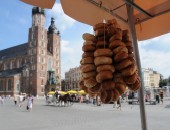 All flight tickets to Krakow (Poland)
outbound:
14-Oct-2022
direct (2h15m)
easyJet
return:
18-Oct-2022
direct (2h20m)
easyJet