When to find the cheapest flights to La Rochelle
Sorry! We haven't found any flights to La Rochelle. Try launching another search above.
La Rochelle guide: how to get there, what to see
Distance from La Rochelle city centre
2 mi
20 mi
Flights to La Rochelle: practical information
Cheap airlines to La Rochelle
Looking for flights to Las Rochelle Airport (LRH)? There are daily flights from London Stansted to this Charente-Maritime city in France with Ryanair. Without a doubt low cost airlines will be the cheapest option for finding discount flights to La Rochelle for your French holiday.
When to book flights to La Rochelle
La Rochelle, being on the seaside, is very popular in summer. Many Parisians come to this coast to spend their summers which means that prices at restaurants, hotels and attractions go up. Spring and fall, however are perfect times to visit.
Peak season: Summer.
Low season: Winter, when practically everything slows down.
Flight duration
Direct flights to La Rochelle take 1hour 25 minutes from London.
Experience La Rochelle: what to see, what to do
La Rochelle is a beautiful city, best explored by bike or on foot. If you want to get out and explore some of the surrounding countryside though, a La Rochelle car hire will be perfect. Ile de Ré and Plage de Châtelaillon are waiting!
Essentials in La Rochelle
Old Port: The city's "vieux port" is the oldest and prettiest part of the city, many of the buildings here are hundreds of years old and are impeccably maintained. The narrow streets are so iconically Mediterranean; simply charming.
Ile de Ré: For an outing out of La Rochelle, Ile de Ré is a perfect escape. The island is known for its pristine and beautiful beaches, excellent food and fantastic restaurants. It's a perfect place to spend a cycling holiday.
The Aquarium: La Rochelle has an incredible aquarium, unusual for a city of its size. It's within walking distance of the harbour and will keep even little ones entertained for at least 3 hours. It's a great place to visit if the weather isn't cooperating.
Find more information on La Rochelle Tourism.
Accommodations in La Rochelle
Many hotels in La Rochelle are located in the Vieux Port area of town. While there are many chic and boutique places with 4-star prices, you can also find budget and cheaper options there as well. Prices peak during the summer months. La Rochelle has only one backpacker's hostel, near Port des Minimes.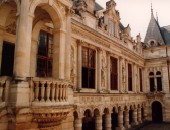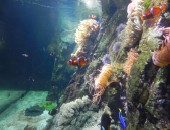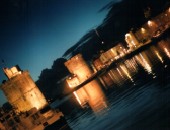 All flight tickets to La Rochelle (France)
Sorry! We haven't found any flights to La Rochelle. Try launching another search above.