When to find the cheapest flights to Leipzig
Sorry! We haven't found any flights to Leipzig. Try launching another search above.
Leipzig: welcome to Saxony!
Distance from Leipzig city centre
9 mi
26 mi
Flights to Leipzig: practical information
Cheap airlines to Leipzig
Planning a trip to the city of Leipzig? This cultural centre in Saxony is a treat year-round. Start your holiday in Leipzig with cheap flights to Leipzig/Halle Airport (LEJ), also called Schkeuditz Airport. Ryanair flies direct from London Stansted.
When to book flights to Leipzig
Leipzig is best enjoyed in summer but trade fairs keep the city busy throughout the year. Winters are quite cold but the Christmas market warms even the coldest hearts! Book your flights to Leipzig at least 3 months in advance for the cheapest fares.
Peak season: Summer, during trade fairs.
Low season: Winter.
Flight duration
Direct flights to Leipzig take 1 hour 45 minutes from London.
Experience Leipzig: what to see, what to do
Leipzig is more than just an industrial centre, it's a cultural hotspot with plenty of shopping, art and a lively nightlife. In the 18th century it was nicknamed "Little Paris" when a profound literary movement was taking place.
Essentials in Leipzig
Old Town Hall: Built in Renaissance style in 1556, this is one of the largest town halls in all of Germany. It's a good meeting place if you're new to the city and need to orient yourself. Today it is a city museum and is well worth the €2.50 entry fee to see the splendour of the interior.
Museum at the Round Corner: Open daily from 10am-6pm, this former Stasi headquarters is not to be missed. It explores how the DDR secret police used to monitor, control and manipulate people.
City passages: Leipzig's passages in the city centre make it pretty unique. Some have grandiose entrances while others look like a gate, just left open. Mädlerpassage and Jägerhofpassage are two of the best ones to explore.
Find more information on Leipzig.de.
Accommodation in Leipzig
Leipzig has a number of hostels but you'll mostly find the best selection in the mid-range: Park Hotel, Mercure Hotel, Marriott, Radisson Blu, Ramada, among others. Book your hotel in Leipzig well in advance to avoid disappointment.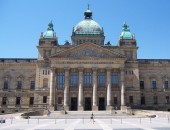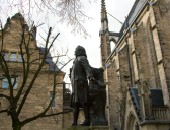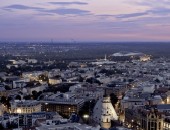 All flight tickets to Leipzig (Germany)
Sorry! We haven't found any flights to Leipzig. Try launching another search above.