When to find the cheapest flights to Lima
Sorry! We haven't found any flights to Lima. Try launching another search above.
Lima: sea, city and sun
Distance from Lima city centre
5 mi
7 mi
Flights to Lima: practical information
Cheap airlines to Lima
Will Peru be your next travel destination? Catch cheap flights to Lima, the beautiful capital city. It's a long trip onboard American Airlines, KLM, Air Europa and others but certainly worth every minute! Jorge Chavez International Airport (LIM) welcomes flights from around the world although none directly from the UK.
When to book flights to Lima
Lima is in a valley and generally experiences warm weather year-round. The most rain tends to fall in January so don't plan your trip around then. Plan your flights to Lima well in advance, preferably 5-6 months before your preferred departure dates.
Peak season: Summer when the weather is dry and sunny.
Low season: Winter is the rainiest time of the year.
Flight duration
Flights to Lima with 1 stopover take around 15 hours from London.
Experience Lima: what to see, what to do
Lima is right on the coast and is the heart and soul of the country's many cultural traditions. Fresh seafood comes in daily and food is an essential part of life in Lima. Let your stomach be your guide but don't forget to see a historic sight or two while you're here on holidays in Lima!
Essentials in Lima
Barranco: If it's the city's wild nightlife you're after, head to Barranco. This beach-side neighbourhood is where the students like to hang out. Some of the best rock music clubs in the world are located here. Party shoes at the ready!
Luis Miro Quesada Garland Hall: This is one of the most popular art galleries in the city and a must for anyone interested in contemporary art. Exhibitions are top-notch and often feature local Peruvian artists and represents the national art scene pretty well.
Surfing: Lima offers plenty for surfers. Lima is right in the middle of different sea currents colliding, creating some spectacular waves. Surf by day, dine on South America's finest seafood by night!
Find more information on Peru.Travel.
Accommodations in Lima
You'll definitely want to book a hotel in one of Lima's tourist areas. Miraflores, Barranco and San Isidro are safe and have plenty of amenities for foreign visitors. The cheapest hotels in Lima are in the old part of the city but if pays to be close to the sights and places that attract you most.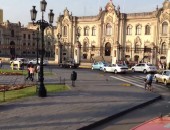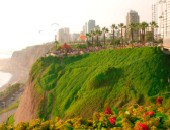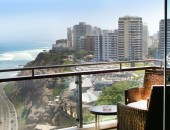 Lima in the Traveller's Magazine
Travel Inspiration
Machu Picchu is a destination that has inspired for generations. This video certainly does just that!
Travel News
Two construction and development companies in Peru are in the dog house this week and could face criminal charges as it comes to light they destroyed one of the oldest pyramids and archaeological sites in Peru, just outside Lima. "Irreparable damage" has been done at a 4,000 year old archaeological site as real estate developers … Continued
Travel Inspiration
Spend your holidays trekking this summer either close to home in the Alps or abroad. Whether you'd like to see Machu Picchu or climb to Everest base camp, there's a mountain for everyone. Where will you trek this summer?
All flight tickets to Lima (Peru)
Sorry! We haven't found any flights to Lima. Try launching another search above.