When to find the cheapest flights to Limoges
Sorry! We haven't found any flights to Limoges. Try launching another search above.
Choose your departure month
Limoges guide: how to get there, what to see
| | |
| --- | --- |
| | Limoges city centre |
| | Limoges–Bellegarde Airport (LIG): 5 mi from city centre |
Flights to Limoges: practical information
Cheap airlines to Limoges
Searching for cheap flights to Limoges? You're in the right place. Limoges-Bellegarde Airport (LIP) is served by three airlines: Air France, Ryanair and Air Linair. The only direct flights to Limoges from the UK are operated by Ryanair, from London Stansted and Liverpool.
When to book flights to Limoges
This quaint city in central France can get busy in summer although it hardly experiences peak and low seasons like other iconic destinations in France. Planning a holiday in Limoges? You'll find flights are cheapest in spring and fall as well as winter.
Peak season: Summer.
Low season: Winter.
Flight duration
Direct flights to Limoges take 1hour 35 minutes from London.
Experience Limoges: what to see, what to do
Many may wonder, what is there to do in Limoges while on holidays? There may not be a seaside and most of the entire old town was destroyed by fires in the 18th and 19th centuries, but Limoges offers visitors a truly French experience.
Essentials in Limoges
Monuments: To discover Limoges' vast heritage, stop by the Saint-Etienne Cathedral or the Saint-Michel-des-Lions church. Even the 20th century central station has a story to tell.
Museums: Looking for more culture? Limoges has at least two museums to attract visitors. The Museum of the Resistance will give you all the history you could possible want on the region and the Fine Arts Museum features some lesser known pieces by Renoir, the impressionist born in Limoges.
Gardens: Limoges is the so-called garden city of France. Visit the Victor Thuillat Gardens or the formal gardens of the palace, the botanical gardens or something more wild along the riverside.
Find more information on Limoges Tourism.
Accommodations in Limoges
There are plenty of options for hotels in Limoges. Residential hotels, B&Bs, gites, motels… from contemporary to rustic and traditional, you'll find it all in Limoges. If you're travelling in summer, make sure you book your hotel early.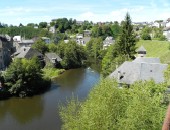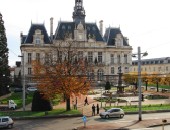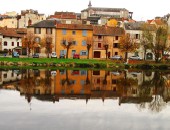 All flight tickets to Limoges (France)
Sorry! We haven't found any flights to Limoges. Try launching another search above.