Find the cheapest flights to Lithuania by date
outbound:
26-Aug-2022
1 stop (13h20m)
Finnair
return:
29-Aug-2022
1 stop (16h35m)
Finnair
outbound:
30-Jul-2022
1 stop (15h)
Ryanair
return:
15-Aug-2022
1 stop (26h15m)
Ryanair
Mini guide: Cheap flights to Lithuania, tourism and travel info
Flights to Lithuania: practical information
Cheap airlines to Lithuania
Planning to visit the Baltics this year? Search for cheap flights to Lithuania's main airport, Vilnius International Airport (VNO) in the country's capital city. Most all international flights land here with the exception of Ryanair, which lands at Kaunas International Airport (KUN).
When to book flights to Lithuania
Summer is without a doubt the best time of the year to visit Lithuania. The days are long thanks to Lithuania's northern location and warm. Best to book your flights to Lithuania at least 3 months before you plan to visit for the cheapest fares.
Peak season: Summer, especially on the coast.
Low season: Generally winter is the quietest time to visit.
Flight duration
Direct flights to Lithuania take 2 hours 40 minutes from London.
Experience Lithuania: what to see, what to do
Lithuania was once the largest nation in Europe, something few visitors know about the country. From forested valleys, historic castles to seaside resort towns, there's something for everyone to do and see while on holidays in Lithuania.
Essentials in Lithuania
Trakai Island Castle: If it's history you're after, head to Trakai. This castle is on an island and was once a main stronghold in the Grand Duchy of Lithuania. It was restored in the 20th century and is one of the most popular sights in the country.
Palanga: Thinking of spending a few days on the seaside? Take your Lithuania car hire to Palanga for great beaches and big, soft sand dunes. In summer it can get pretty crowded here so arrive early!
Hill of Crosses: Head north to Šiauliai and you'll run into this remarkable place. Over 100,000 crosses dot the hillside, from small and dainty to huge and exuberant.
Find more information on Lithuania Tourism.
Accommodations in Lithuania
Hotel prices in Lithuania really vary by location and are especially high in Vilnius compared to the countryside. You'll find a wide selection in both Vilnius and Kaunas and even Palanga but keep in mind that demand can outnumber supply so it's good to book your hotels in Lithuania in advance.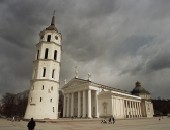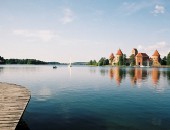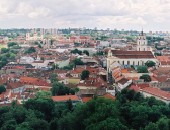 All flight tickets to Lithuania
Sorry! We haven't found any flights to Lithuania. Try launching another search above.