When to find the cheapest flights to Londonderry
Sorry! We haven't found any flights to Londonderry. Try launching another search above.
Londonderry: a Northern Ireland retreat
| | |
| --- | --- |
| | Londonderry city centre |
| | City of Derry Airport (LDY): 7 mi from city centre |
Flights to Londonderry: practical information
Cheap airlines to Londonderry
Derry, here we come! Planning a trip to this Northern Ireland city? Start your planning with cheap flights to City of Derry Airport (LDY) which serves not only Londonderry but Tyrone and Donegal as well. Ryanair offers the cheapest flights to Londonderry from Birmingham, London Stansted, Glasgow and Liverpool.
When to book flights to Londonderry
Londonderry is a treat to visit year-round but summer is without a doubt the most popular time to plan a holiday in Londonderry. Booking your flights at least three months in advance will ensure you find the cheapest possible flight fares.
Peak season: Summer is busiest, June to August.
Low season: Winter is generally grey and drizzly.
Flight duration
Direct flights to Londonderry take 1 hour from London.
Experience Londonderry: what to see, what to do
Londonderry, or just Derry, is the second largest city in Northern Ireland and a very beautiful one at that. Situation along the River Foyle in the picturesque County Londonderry, the city is famous for the most complete defensive walls in Ireland.
Essentials in Londonderry
City Walls: The city's 17th century defensive walls attract many.The walls have stood for hundreds of years seeing plenty of military encounter, sieges, political uprisings and more. You'll find them on the west side of the River Foyle and dotted with four gates.
Bogside: "Free Derry" is here, where you can look at the political murals on the sides of houses and buildings dating back to the 1990s. In the same area you'll find the Free Derry Museum and the Bloody Sunday memorial. Best not to visit the area at night on your own.
Tower Museum: This is the city's main museum and will bring you up to speed on the city's history from pre-historic times to present day. It was voted European Museum of the Year in 1994.
Find more information on Derry Visitor.
Accommodation in Londonderry
There are dozens of hotels in Londonderry with a good selection in the budget, mid-range and luxury price ranges. Travelodge and Londonderry's Aparthotel are good centrally-located choices but there are also a number of B&Bs that are more homey and with more character.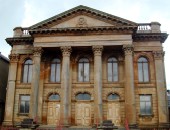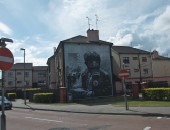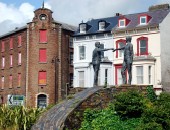 All flight tickets to Londonderry (United Kingdom)
Sorry! We haven't found any flights to Londonderry. Try launching another search above.