When to find the cheapest flights to Luxor
Sorry! We haven't found any flights to Luxor. Try launching another search above.
Luxor: where ancient Egypt comes alive
| | |
| --- | --- |
| | Luxor city centre |
| | Luxor International Airport (LXR): 4 mi from city centre |
Flights to Luxor: practical information
Cheap airlines to Luxor
If it's ancient Egyptian ruins you're after, plan a holiday in Luxor in the Nile Valley. You've never seen any place like it! Start planning your trip with cheap flights to Luxor International Airport (LXR). From London the cheapest flights to Luxor are with easyJet. Thomson Airways and Egyptair also operate the route.
When to book flights to Luxor
Luxor is most popular in winter and spring, before the scorching summer sun hits. It's best t book your flights to Luxor at least a few months in advance and even earlier if planning to visit during Easter and half-term holidays.
Peak season: Spring is especially popular, especially May half-term and Easter.
Low season:Summer.
Flight duration
Direct flights to Luxor take almost 6 hours from London.
Experience Luxor: what to see, what to do
Luxor has plenty to offer travellers from ancient tombs and temples to spectacular desert scenery. Luxor is divided by the Nile with Luxor Temple and the modern city on one side and the Valley of the Kings and Queens on the other.
Essentials in Luxor
Valley of the Kings: This is the most popular sight and attraction on the West Bank of the Nile in Luxor. Most of the pharaohs of the New Kingdom are buried here. Tutankhamun's tomb is of course the most famous and requires an additional fee to enter.
Western Valley: The Western Valley is also known as the Valley of the Monkeys as many baboons are features in the wall paintings here. It makes a great side trip to the Valley of the Kings. Visit the Tomb of Ay from the 18th Dynasty and the Tomb of Amenhotep III while you're here.
Felucca Rides: For great views of Luxor from the Nile, take a ride of a local felucca just before sunset. It costs around £3 for one hour.
Find more information on Egypt Travel.
Accommodations in Luxor
Luxor is well equipped with hotels and accommodation. You'll find everything from camping grounds to the most luxurious palaces where kings, queens and prime ministers stay. The thing about Luxor is that prices fluctuate daily and hotel rates soar during peak tourist season. Some hotels in Luxor can be 50% cheaper in summer.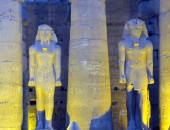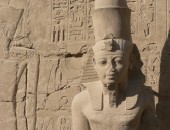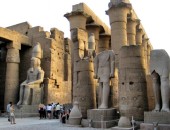 Luxor in the Traveller's Magazine
Travel Inspiration
Thanks to the new route from London to Luxor with EasyJet, Cairo is cheaper than ever! If you're thinking of taking a quick jaunt to Egypt's finest iconic sights this season, here are a few tips to follow if you want to keep your trip under the £200 mark. The new addition to easyJet's destination … Continued
All flight tickets to Luxor (Egypt)
Sorry! We haven't found any flights to Luxor. Try launching another search above.