Find the cheapest flights to Mauritius by date
outbound:
16-Oct-2019
2 stops (39h10m)
Kenya Airways
return:
19-Mar-2020
2 stops (34h)
Kenya Airways
Mini guide: Cheap flights to Mauritius, tourism and travel info
Flights to Mauritius: practical information
Cheap airlines to Mauritius
This island may be small but it packs a whole lot of punch. Are you planning holidays in Mauritius? The first step is finding cheap flights to Sir Seewoosagur Ramgoolam International Airport (MRU). Air Mauritius offers flights from a number of European departure airports but British Airways and Air France also offer cheap flights to the island.
When to book flights to Mauritius
Mauritius is a treat to visit with tropical and warm weather year round. Dry weather hits from May to November while humid weather hits from November to May. There is no bad time to visit except cyclone season.
Peak season: Summer.
Low season: End of December to March.
Flight duration
Direct flights to Mauritius take 12 hours from London.
Experience Mauritius: what to see, what to do
Mauritius Island has so much to offer from secluded bays that are perfect for snorkelling to castles, exotic markets and 17th century ruins. Mauritius isn't huge but a car hire will make it easier for getting around.
Essentials in Mauritius
Grand Bay: This is the centre of everything touristy that's happening on the island. It was the first place to really experience the tourist boom and a great place to go for a night out. Bars, clubs and restaurants are not lacking by any means.
Ile aux Cerfs: If you're dying to try some water sports while you're visiting Mauritius then this is the place. It also have one of the most beautiful beaches. Just be warned, there's only one restaurant on this little island with prices that aren't too friendly to budget travellers.
Vieux Grand Port: For a bit of history, make sure you visit the south-eastern part of the island. There are some Dutch fortification ruins in Vieux Grand Port will reveal some of the island's important history.
Find more information on Tourism-Mauritius.
Accommodations in Mauritius
Looking for hotels in Mauritius? There is plenty of selection, especial on the coast in the Grand Bay area. Beach resort hotels are popular and come in varying price ranges with something for everyone from budget digs to luxury boutique hotels with private beaches.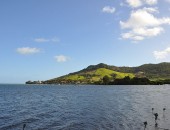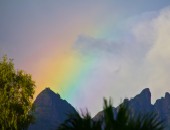 All flight tickets to Mauritius