When to find the cheapest flights to Mombasa
outbound:
12-Mar-2021
2 stops (17h55m)
Qatar Airways
return:
07-Apr-2021
2 stops (17h35m)
Kenya Airways
Mombasa guide: how to get there, what to see
Distance from Mombasa city centre
5 mi
6 mi
Flights to Mombasa: practical information
Cheap airlines to Mombasa
Planning a trip to Kenya? Search for cheap flights to Mombasa, the country's second largest city. Kenya Airways connects Mombasa to most of Europe. From London and Manchester, find cheap flights to Mombasa International Airport (MBA) onboard Turkish Airlines . Ethiopian Airlines also flies from London.
When to book flights to Mombasa
Mombasa is the main tourist destination in Kenya, right on the Indian Ocean. With a tropical climate year-round, there's no bad time to plan a holiday in Mombasa. Summer tends to be busiest with European tourists.
Peak season: Summer.
Low season: Winter, although weather is great year-round.
Flight duration
Direct flights to Mombasa take 9 hours from London.
Experience Mombasa: what to see, what to do
Mombasa was ruled by the Portuguese, Brits and Arabs and today the city reflects that history. Explore Portuguese forts, walk around the Old Town and dip into the city's culture!
Essentials in Mombasa
Fort Jesus: The most popular attraction in Mombasa, Fort Jesus is definitely a sight to see, from torture rooms, cells and other artefacts from the 16th century slave trade.
Diani Beach: For a dip in the gorgeous Indian Ocean, head to Diani Beach. The beach is white and very sandy, stretches for miles and is a popular place to jet ski and waterski. Don't miss the nearby Colobus Trust primate rescue centre.
Haller Park: Looking for some African wildlife? Take your Mombasa car hire to Haller Park to see giraffes, hippos, monkeys and reptiles. Watch out for the monkeys though, they tend to bite!
Find more information on Mombasa Info.
Accommodations in Mombasa
There is a wide selection of hotels to choose from when visiting Mombasa. With a handful of backpackers hostels, not even the cash-strapped travellers are forgotten. In the mid-range you'll find a number of beach-side resorts and hotels in Mombasa that are perfect for your trip.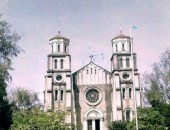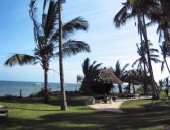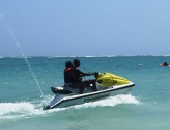 All flight tickets to Mombasa (Kenya)
Sorry! We haven't found any flights to Mombasa. Try launching another search above.