When to find the cheapest flights to Murcia
Sorry! We haven't found any flights to Murcia. Try launching another search above.
Murcia guide: how to get there, what to see
Distance from Murcia city centre
22 mi
124 mi
Flights to Murcia: practical information
Cheap airlines to Murcia
Spain's Murcia region is a phenomenal choice for holidays year-round. Getting there is a breeze with cheap flights to San Javier Airport (MJV) from the UK. As an alternative for low cost flights, Alicante's airport is less than an hour's drive away.
When to book flights to Murcia
Murcia is a cosmopolitan city but still has strong Spanish roots. Being a bit inland, Murcia is quiet during the summer months when everyone flocks to the beaches on the coast. Let your Murcia holiday begin!
Peak season: During the school term time when the city is full of students.
Low season: Summers, when most head out of the city for the coasts.
Flight duration
From London, flights take little more than 2h 30min.
Experience Murcia: what to see, what to do
Murcia's Moorish roots can be found all over town but today this city prides itself on being young with a cosmopolitan flare. The city serves up plenty to do but there is even more waiting outside the city limits. Venture out to the mountains or as far as the Costa Calida, the Hot Coast.
Essentials in Murcia
Cathedral: Murcia's cathedral dates back to the end of the 1300s and was a stunning example of Gothic tradition until it was given a Baroque facelift in the 1700s. Don't miss the adjoining Museo de la Catedral for the excavations on display, simply remarkable.
La Manga: This sandbar on the seaside of Murcia's coast is very popular in the summer months. It separates the Mediterranean from the Mar Menor, creating a lush lagoon lined with restaurants, hotels and resort facilities.
Sierra Espuña: Take advantage of having a Murcia rent car and get out of the visit to do some hiking in Sierra Espuña's pine forests. Pack a picnic and head for the hills!
Caravaca: There are so many charming small towns in the Murcia region. Caravaca is just one example. Visit the Castle of Saint Crux while you're there. Legend has it that the cross in the castle has healing powers.
Find more information on Murcia Turistica.
Accommodations in Murcia
There is no limit on choice when it comes to hotels in Murcia and other types of accommodation. There are hotels in every price range. There are also rural cottages and camp grounds available as well.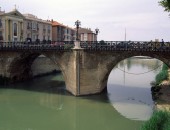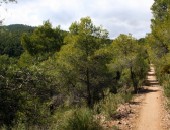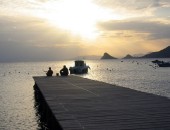 Murcia in the Traveller's Magazine
Travel Inspiration
Our next Spanish road trip is taking place in the lovely region of Murcia. It may not be Spain's largest province but that doesn't mean there's a lack of interesting sights, beaches and towns to discover.
All flight tickets to Murcia (Spain)
Sorry! We haven't found any flights to Murcia. Try launching another search above.