When to find the cheapest flights to Nuremberg
Sorry! We haven't found any flights to Nuremberg. Try launching another search above.
Nuremberg: Bavaria welcomes you!
| | |
| --- | --- |
| | Nuremberg city centre |
| | Albrecht Dürer International Airport (NUE): 3 mi from city centre |
Flights to Nuremberg: practical information
Cheap airlines to Nuremberg
Nuremberg, a gem in Bavaria, is waiting! If you're planning holidays in Nuremberg start with cheap flights onboard a low cost airline like Ryanair, airberlin or Flybe. Lufthansa also offers flights from the UK for Nuremberg Airport (NUE) year-round.
When to book flights to Nuremberg
Nuremberg is extremely popular during Christmas time when there is a dusting of snow over the old town and the seasonal market is open. Summers are also a great time to visit this city when the weather is better for tourist castles and parks. Book your flights at least 90 days before you plan to travel.
Peak season: Christmas and summer.
Low season: Fall and spring are generally quiet.
Flight duration
Direct flights to Nuremberg take 1 hours 45 minutes from London.
Experience Nuremberg: what to see, what to do
Nuremberg is certainly an interesting place with the Imperial Castle, Gothic churches, romantic mansions and the Reich Party Rally Grounds. The striking modern buildings crop up in and out of historic buildings. There is so much to discover historically, are you ready?
Essentials in Nuremberg
Castle: Nuremberg's castle is the top attraction in the city. It was built in 1495 was originally a grain storehouse. Don't miss the castle museum and a the views from the Freiung overlooking the Old Town. From here, tour the city walls, stopping at the towers along the way.
Reich Party Rally Grounds: Soon after coming into power, the Nazis help annual rallies in Nuremberg. They build some colossal buildings like the Congress Hall and the stand in Zeppelin field. The rally grounds are quite large so allot 1-2 hours to visit.
Nuremberg Trials: For those interested in WWII history, the chance to see Courtroom 600, used for the famous Nuremberg Trials, should not be missed. There is a tour every hour on Saturdays and Sundays which is followed by a short film about the trials.
Find more information on Nuremberg.de.
Accommodations in Nuremberg
Nuremberg welcomes visitors year-round and from all over the world. The city is well equipped with accommodation but it's almost essential to pre-book your hotels in Nuremberg to avoid disappointment. During festivals, fairs and events, the city can get pretty busy!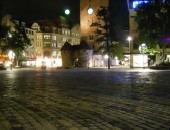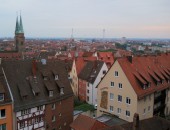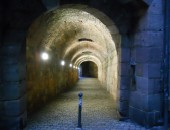 All flight tickets to Nuremberg (Germany)
Sorry! We haven't found any flights to Nuremberg. Try launching another search above.