When to find the cheapest flights to Ottawa
Sorry! We haven't found any flights to Ottawa. Try launching another search above.
Choose your departure month
Ottawa: a capital city with plenty of charm
Distance from Ottawa city centre
4 mi
7 mi
Flights to Ottawa: practical information
Cheap airlines to Ottawa
Planning a trip to the Canadian capital? Start your holiday in Ottawa with cheap flights to Macdonald-Cartier International Airport (YOW), the city's main airport. Air Canada has direct flights from London Heathrow to Ottawa. US Airways, British Airways, United Airlines, among others fly with stopovers.
When to book flights to Ottawa
Ottawa is frigidly cold in winter with average temperatures around -14°C. Summer is by far the most popular time of the year to visit Ottawa so be sure to book your flight tickets to Ottawa at least six months before you plan to depart.
Peak season: Summertime, especially the first week of July.
Low season: Winters, except New Year's Eve.
Flight duration
Direct flights to Ottawa take 7 hours 40 minutes from London.
Experience Ottawa: what to see, what to do
Queen Victoria chose Ottawa to be the capital of Canada in the 1850s and today it's here that you'll find a fine selection of national museums, the houses of parliament and all things culturally Canadian, especially in winter when the canal freezes and the locals take out their ice skates.
Essentials in Ottawa
Parliament Hill: This is the city's number one attraction, overlooking the Ottawa River. The houses of parliament are a fine example of the Gothic revival style. Tours will take you around, including into the restored offices of John A Macdonald and the Privy Council Office.
Canadian Museum of Civilisation: This is the most visited museum in Canada and is a must for any first-time visitor. The museum really illuminates the history of Canada through different exhibitions and studies.
Rideau Canal: In winter the city's Rideau Canal turns into the world's largest outdoor ice rink. You can rent skates and buy cups of hot chocolate right out on the ice. Some locals even take advantage of it and commute via ice skates.
Find more information on Ottawa Tourism.
Accommodation in Ottawa
Ottawa has plenty of hotels including several backpackers hostels for budget travellers. Most hotels are located in the city centre and many cater to business travellers and politicians which means that you can often grab a room deal on the weekends.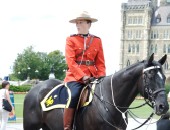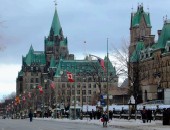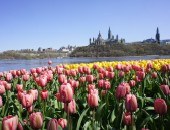 All flight tickets to Ottawa (Canada)
Sorry! We haven't found any flights to Ottawa. Try launching another search above.