When to find the cheapest flights to Pisa
outbound:
08-Aug-2022
direct (2h05m)
Ryanair
return:
15-Aug-2022
direct (2h15m)
Ryanair
outbound:
30-Jul-2022
direct (2h05m)
easyJet
return:
11-Aug-2022
direct (2h15m)
easyJet
Pisa guide: how to get there, what to see
| | |
| --- | --- |
| | Pisa city centre |
| | Galileo Galilei Airport (PSA): 3 mi from city centre |
Flights to Pisa: practical information
Cheap airlines to Pisa
This city of Pisa is a must-stop for anyone travelling through Italy. It won't be a problem finding cheap flights to Pisa from London, Bristol, or even from other UK departure cities. The best way to find the cheapest Pisa flights is to stick with low cost airlines to Pisa International Airport Gallileo Gallilei (PSA).
When to book flights to Pisa
Pisa is a popular Italian destination, especially in summer it can be over-crowded with tourists. If you're planning a city break in Pisa, consider visiting in spring or autumn.
Peak season: Summer but the weather can be very hot.
Low season: Winter but best to visit in spring or fall.
Flight duration
Direct flights to Pisa take 2 hours 20 minutes from London.
Experience Pisa: what to see, what to do
Most travellers visit Pisa to see the world-famous leaning tower with their own eyes but this beautiful Tuscan city has a lot more to offer than that. The city in fact has a handful of other UNESCO sights. Planning holidays in Pisa? Here are some ideas will get you started.
Essentials in Pisa
The Tower: It's a landmark not only for Pisa but for Italy. It's one of the most famous buildings in the world. The Bell Tower was built between 1173 and 1350 and began to slowly tilt over time. The foundation was recently restored so hopefully this tower won't be doing any more leaning any time soon.
Santa Maria Assunta: The cathedral located directly beside the leaning tower was built between 1063 and 1118 and is worth visiting just to see the central nave's coffered ceilings, frescoes and the pulpit. It's an incredible piece of architecture.
Museo di San Matteo: Once you'v explored the Piazza dei Miracoli take your Pisa car hire to the Piazza San Matteo. This museum has a fantastic collection of historical artefacts and art, most all of the original artwork from the churches in Pisa.
Find more information on Pisaunicaterra.it.
Accommodations in Pisa
If you're looking for cheap hotels in Pisa, it's especially essential to book in advance particularly in the warm summer months when tourism is at its busiest. You'll find hotels in all price ranges and star-ratings but if nothing suits your fancy, consider making your trip to Pisa a day trip.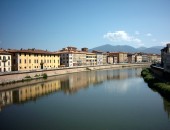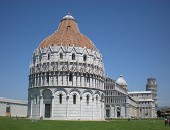 Pisa in the Traveller's Magazine
Travel News
Rome's favourite monument is tilting to the southern side, a whole 40cm. Tests are being run to see how desperate repairs are needed to preserve the structure.
All flight tickets to Pisa (Italy)
outbound:
10-Oct-2022
direct (1h40m)
easyJet
return:
16-Oct-2022
direct (1h45m)
easyJet