When to find the cheapest flights to Poznan
outbound:
12-Aug-2021
1 stop (8h40m)
Ryanair
return:
15-Aug-2021
1 stop (7h50m)
Ryanair
outbound:
12-Aug-2021
1 stop (8h40m)
Ryanair
return:
15-Aug-2021
1 stop (7h50m)
Ryanair
Poznan: Poland's "meeting place"
| | |
| --- | --- |
| | Poznan city centre |
| | Poznań–Ławica Airport (POZ): 4 mi from city centre |
Flights to Poznan: practical information
Cheap airlines to Poznan
Planning a trip to Poland? A holiday in Poznan is just what you're looking for. Start your planning which cheap flights to Poznań - Ławica Henryk Wieniawski Airport (POZ). LOT Polish Airlines, Ryanair and Wizz Air offer the chepapest flights to this western Polish city from the UK.
When to book flights to Poznan
Poznan is just a short jaunt away from London so three months is plenty enough time to book your flights. Summer is the most popular time to plan a holiday in Poznan and while winters here are colder than cold, the Christmas Market is also popular.
Peak season: Summertime is the best time to visit.
Low season: Winters are generally cold.
Flight duration
Direct flights to Poznan take just over two hours.
Experience Poznan: what to see, what to do
Poznan is a charming city but it was badly bombed during WWII. Many squares and buildings have been painstakingly rebuilt to their original splendour. Cathedral Island and the Old Town Square are the best places to start any tour of Poznan.
Essentials in Poznan
Stary Rynek: Poznan's old town square is one of the finest in all of Europe. This was the heart of medieval Poznan and is lined with quaint little cafes and bars. This is a great place to grab a coffee and just people watch.
Cathedral Island: This place marks the spot where the city was founded, a quiet island mostly occupied by monks, bishops and priests. To visit: St. Peter's and Paul's Cathedral, Our Lady Church, the archbishop's palace and the Psalter House.
Emperor's District: This neighbourhood is home to the Emperor's Castle, built in 1905 in neo-Romanesque style. It was the Polish president's house between the wars and was Hitler's residence during WWII. Today it is a museum, and one that's not to be missed.
Find more information on Poznan Tourism Board.
Accommodation in Poznan
Poznan is famous for its trade fairs. These of course see thousands descend on the city quite quickly. If you're after a bargain, don't book a hotel in Poznan during one of these events. Otherwise, Poznan has plenty of youth hostels and plenty of choice in the mid-range as well.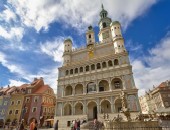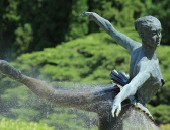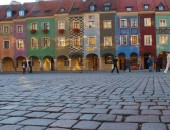 All flight tickets to Poznan (Poland)
Sorry! We haven't found any flights to Poznan. Try launching another search above.