When to find the cheapest flights to Prague
Sorry! We haven't found any flights to Prague. Try launching another search above.
Choose your departure month
Prague guide: how to get there, what to see
| | |
| --- | --- |
| | Prague city centre |
| | Václav Havel Airport Prague (PRG): 7 mi from city centre |
Flights to Prague: practical information
Cheap airlines to Prague
Prague, being one of the most popular cities in Central Europe, is widely accessible from all over England with both regular and low cost airline tickets to Prague. Prague Airport (PRG) is home-base to Czech Airlines. EasyJet flies from London and Bristol to Prague.
When to buy Prague plane tickets
Prague experiences warm summers and relatively cold winters. That being said, it pays to know when to book flights, especially if you're after cheap tickets to Prauge.
Peak season: Spring through autumn, especially July and August. Christmas and Easter holidays.
Low season: November to March.
Flight duration
Flights to Prague from London take 1h 30min.
Experience Prague: what to see, what to do
Discover what the Czech capital has to offer while on holidays in Prague by getting acquainted with Czech food, beer, music, art and traditions. Mingle along Charles Bridge and stop by the castle for the afternoon.
Essentials in Prague
Prague Castle: One of the most famous sights in the city is Prague Castle; it is also one of the biggest castles in the world. Visitors can access the gardens for free.
Charles Bridge: One of the most famous bridges in Europe is the one that crosses the Vltava River in Prague. Construction started in 1357 under the order of King Charles IV.
Astronomical Clock: The Medieval clock is found on the south-facing wall of the Old Town City Hall. There are three main parts: the dial that represents the position of the sun and moon, the "walk of the apostles" which is an hourly display of figures and sculptures and a calendar dial to show the months.
Beer: As for beer, make sure you get fully acquainted with the national drink. Pilsner Urquell, Staropramen, Krusovice, Radegast and more... Na zdraví!
Find more information on praguewelcome.cz.
Accommodations in Prague
Prague's hotel industry has been exploding in the last ten years, trying to keep up with the growing number of tourists. The only downfall is that many of the accommodations you and find now are either 5-star luxurious palaces or youth and budget hostels and pensions. Look for hotels in Prague with deals, like book three nights and get the fourth for free.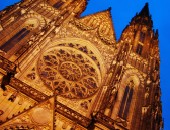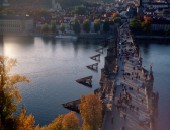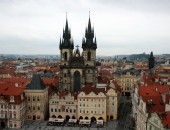 Prague in the Traveller's Magazine
Featured
Prague is undoubtedly one of the most beautiful cities in Europe, but also one of the most visited. Beat the crowds and explore the city like a local with our guide to its hidden gems!
Featured
Valentine's Day is just around the corner but if you're tired of chocolates and flowers, whisk your darling off on a trip to one of these romantic cities.
Featured
Having trouble getting into the Christmas mood? A trip to one of these beautiful Christmas markets around Europe will definitely do the trick! Here's our top 10.
All flight tickets to Prague (Czech Republic)
outbound:
08-Oct-2020
direct (1h45m)
Vueling
return:
12-Oct-2020
direct (1h50m)
Vueling