When to find the cheapest flights to Preveza
Sorry! We haven't found any flights to Preveza. Try launching another search above.
Preveza guide: how to get there, what to see
| | |
| --- | --- |
| | Preveza city centre |
| | Aktion National Airport (PVK): 2 mi from city centre |
Flights to Preveza: practical information
Cheap airlines to Preveza
Planning a holiday in Preveza? Take off onboard Thomson AIrways, Monarch and Thomas Cook Airlines to this Greek paradise! Aktion National Airport (PVK) is just outside the city centre and the best way to reach this corner of Greece. Depart from Birmingham, Manchester or London Gatwick.
When to book flights to Preveza
Preveza is a hot spot in the summertime. July and August are particularly busy as well as half-term and UK holidays so make sure you book your flights to Preveza well in advance, 3-4 months is recommended.
Peak season: Summer, especially July and August.
Low season: Winter, except Christmas.
Flight duration
Direct flights to Preveza take 3 hours 20 minutes from London.
Experience Preveza: what to see, what to do
Greece's Epirus region is a treat to visit. The beaches lining the Ambracian Gulf are popular almost year-round but especially in summer. Tour ancient Nicopolis, stop by one of the historic churches, explore Lekatsas Forest and sock up the sun on Monolithi Beach.
Essentials in Preveza
Nicopolis: Just 7km away from Preveza, you'll find plenty of ancient ruins here including baths, theatre, Augustus Monument and a stadium. It's a must for anyone interested in archaeology.
Lekatsas Forest: Located in Myrsini, a small village, is the perfect place to explore the Greek wilderness. Pack a lunch a take a day hike around the area.
Beaches: While there are many beaches lining the gorgeous bay, Monolithi Beach is a favourite among visitors and locals alike. Best to get there early on a sunny weekend in summer.
Find more information on Greece Tourism.
Accommodations in Preveza
Being primarily a summer destination, you'll find that hotels in Preveza are much cheaper in winter and the off-season. Some even close for a few months due to lack of tourists. In summer, it's essential to book your hotels as early as possible.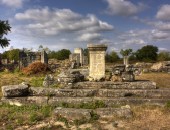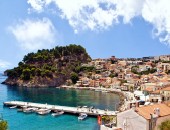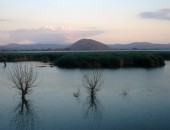 All flight tickets to Preveza (Greece)
Sorry! We haven't found any flights to Preveza. Try launching another search above.