When to find the cheapest flights to Punta Cana
Sorry! We haven't found any flights to Punta Cana. Try launching another search above.
Choose your departure month
Punta Cana: the Dominican Repulic has it all
| | |
| --- | --- |
| | Punta Cana city centre |
| | Punta Cana International Airport (PUJ): 1 mi from city centre |
Flights to Punta Cana: practical information
Cheap airlines to Punta Cana
If you're looking for a beach holiday destination that has it all, look no further than Punta Cana, the jewel in the Dominican Republic's crown. Start planning your holiday in Punta Cana with cheap flights to Punta Cana International Airport (PUJ) onboard Jet Blue, American Airlines, Tomas Cook, Air Transat, among others.
When to book flights to Punta Cana
The weather is fine practically year-round with the hottest months falling between April and November. It's no quick trip from London so it's best to book your flights to Punta Cana as far in advance as possible.
Peak season: December to April, plus major American holidays like Thanksgiving and Spring Break.
Low season: Summers tend to very very hot and humid.
Flight duration
Direct flights to Punta Cana take 9 hours 30 minutes from London.
Experience Punta Cana: what to see, what to do
Punta Cana is home to some of the world's most glorious white sand beaches. It's no wonder it's so popular! When you're not at the beach be sure to plan trips to visit Santo Domingo, Manati Park and Altos de Chavon with a Punta Cana car hire.
Essentials in Punta Cana
Manati Park: There's so much to do at this family-friendly attraction including swimming with dolphins, riding horses and visiting the aquariums to see dozens of varieties of tropical and exotic fish.
Altos de Chavon: Take a trip back to this artist's village that looks just like a 16th century Mediterranean village. It's located on a hillside overlooking the beautiful Chavon River. Tour artist studios, attend a craft workshops and dine your way across the town.
Santo Domingo: This is the first European settlement in the Western Hemisphere and the city has carefully preserved a number of its colonial buildings. The first Cathedral of the Americas still stands, as does the remarkable Alcazar de Colon.
Find more information on Go Dominican Republic.
Accommodation in Punta Cana
Resorts are definitely the way to go when you're searching for a hotel in Punta Cana. The grounds are lush with foliage and lagoons, often with wandering peacocks! Resorts can also organise day trips for you and offer the best when it comes to nightlife. Prices tend to rise drastically between December and March so book early!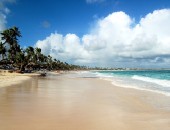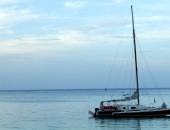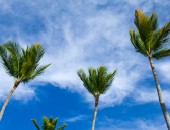 All flight tickets to Punta Cana (Dominican Republic)
Sorry! We haven't found any flights to Punta Cana. Try launching another search above.