When to find the cheapest flights to Rhodes
Sorry! We haven't found any flights to Rhodes. Try launching another search above.
Rhodes guide: how to get there, what to see
| | |
| --- | --- |
| | Rhodes city centre |
| | Diagoras International Airport (RHO): 9 mi from city centre |
Flights to Rhodes: practical information
Cheap airlines to Rhodes
Greece is without a doubt one of the most popular destinations in Europe, mostly thanks to its picturesque islands that dot the Aegean Sea and the Mediterranean. Find the cheapest flights to Rhodes International Airport (RHO) with Aegean Airlines, Thomson Airways, easyJet, Olympic Airlines and KLM.
When to book flights to Rhodes
Most visitors head to Rhodes for holidays during the summer. The weather is hot and the beaches crowded. For cheaper flights to Rhodes, book your trip during spring or even fall, after the summer crowds have gone home.
Peak season: Summer.
Low season: Fall to spring.
Flight duration
Direct flights to Rhodes take almost 4 hours and 30 minutes from London.
Experience Rhodes: what to see, what to do
When you arrive in Rhodes, you'll be greeted in the capital city, Rhodes Town. Even if you're only interested in spending time on the island's gorgeous beaches, don't miss a walking tour of Rhodes before heading out to your resort with your Rhodes car hire straight away. The narrow streets and medieval charm of Rhodes is something special.
Essentials in Rhodes
Agios Stefanos: For stunning views, there's no better place than Agios Stefanos, the mountain that towers over the city. Up on the mountain there are also several interesting archaeological sites to visit. An ancient Acropolis still stands, as well as a Temple for Apollo and a stadium.
Palace of the Prince Grand Master: This gigantic palace is often the symbol for Rhodes. Located in the heart of Medieval Rhodes, it was built by the knights of St. John who ruled the island from the 1300s to the 1500s. When the Ottoman's came to town, the palace was used as a prison.
Cape Prasonisi: This place is stunning! It's on the southern-most tip of the island. There is a peninsula attached to the mainland by a sandbar but we suggest you don't take your rental car over it unless you have a 4x4!
Find more information on Visit Greece.
Accommodations in Rhodes
Rhodes, being one of the most popular choices for a Greek holiday island, is well equipped with hotels for visitors to use while on the island. Finding a cheap hotel in Rhodes during summer however, can prove difficult. Remember that many hotels close in winter in case you're planning an off-peak holiday.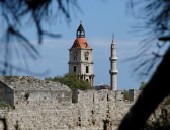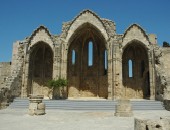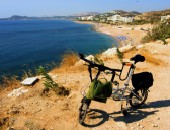 Rhodes in the Traveller's Magazine
Travel Inspiration
According to myth, Helios, the sun god, fell madly in love when Rhodes emerged from the sea, blessing her with the warm embrace of his rays from that moment onwards. Pleasant weather, great beaches and stunning natural beauty aside, this island is a cultural gem situated somewhere between East and West. The ruins from its … Continued
All flight tickets to Rhodes (Greece)
Sorry! We haven't found any flights to Rhodes. Try launching another search above.