When to find the cheapest flights to Riga
Sorry! We haven't found any flights to Riga. Try launching another search above.
Riga guide: how to get there, what to see
| | |
| --- | --- |
| | Riga city centre |
| | Riga International Airport (RIX): 7 mi from city centre |
Flights to Riga: practical information
Cheap airlines to Riga
Capital of Latvia, Riga is a stunner and well worth a visit. Searching for cheap flights to Riga International Airport (RIX)? For the cheapest fares, stick to low cost airlines like airBaltic which departs from London Gatwick or Ryanair which departs from 5 UK airports.
When to book flights to Riga
Riga is becoming increasingly popular as a city break destination. The best time to plan a holiday in Riga is from June to September when the weather is warm, flight prices tend to rise then too. Winters tend to be very cold with little daylight.z
Peak season: Summers.
Low season: Fall and winter.
Flight duration
Direct flights to Riga take 2 hours 40 minutes from London.
Experience Riga: what to see, what to do
Riga's German Art Nouveau architecture is some of the finest in the world. The city's old town and historical important attract many but what keeps them coming back is certainly the city's great nightlife and social scene.
Essentials in Riga
Town Square: Many buildings in this area could be from Rome, Paris or Berlin. Don't miss the town hall, the House of Blackheads, the Statue of Roland and St. Peter's Church. The Porcelain Museum and the Museum of the Occupation of Latvia are noteworthy as well.
Central Market: Located right next to the train station, this is the best place to pick up souvenirs like amber or hand-knit woollen mittens. In the summer, fresh fruits and vegetables are in abundance and so tasty!
Freedom Monument: This is a national symbol of Latvia and an important stop while making a tour of Riga. It was erected during Latvia's first independence movement but was never taken down by the Soviets.
Find more information on Latvia.Travel.
Accommodations in Riga
There are at least a dozen backpackers and youth hostels in Riga offering plenty of choice for budget travellers. Mid-range hotels in Riga are mostly located in the old town area, perfect for city sightseeing and late nights out.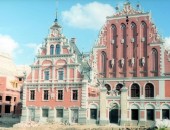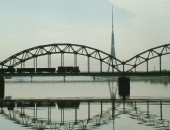 Riga in the Traveller's Magazine
Featured
Want to get away before Christmas? Take off for Riga for only £55 December 9th to 16th onboard Wizz Air and Ryanair and celebrate the city's final weeks as European Capital of Culture.
Travel Inspiration
Is it Easter Weekend already? Have you already stocked up on eggs for the festivities? From Latvia to Hungary and on to Greece, let's see how Europe celebrates Easter! In England, as in many other countries around the world, chocolate eggs are hidden in the gardens for children. There are hot cross buns and marshmallow … Continued
Travel Tips
For the love of food and travel, check out these European foodie destinations that are both delicious with some serious food traditions and are easy on the budget.
All flight tickets to Riga (Latvia)
Sorry! We haven't found any flights to Riga. Try launching another search above.