When to find the cheapest flights to Rodez
Sorry! We haven't found any flights to Rodez. Try launching another search above.
Rodez: step back in time for a French adventure
| | |
| --- | --- |
| | Rodez city centre |
| | Rodez–Marcillac Airport (RDZ): 6 mi from city centre |
Flights to Rodez: practical information
Cheap airlines to Rodez
Heading to Rodez? First thing's first, start searching for flights to Rodez Marcillas Airport (RDZ) which is served by Ryanair from London Stansted. Air France also offers cheap flights to Rodez, but with a stopover in Paris.
When to book flights to Rodez
Planning to spend your holidays in Rodez? We don't blame you! It's important to book your flights to Rodez at least three months in advance if you want to make sure you get the cheapest flight fares possible. The summer months are the most popular.
Peak season: The summer months are best for fishing, camping and cycling in the region.
Low season: Winter.
Flight duration
Flights to Rodez take 6 hours with stopovers from London.
Experience Rodez: what to see, what to do
Rodez is a gorgeously historic town in the south of France with plenty to offer from Gothic cathedrals to some stunning scenery, best explored with a rental car or bicycle if you prefer a slower pace. Discover museums, cafes, markets and more!
Essentials in Rodez
Notre Dame Cathedral: Step back in time at Rodez's cathedral, a Gothic masterpiece in the centre of town with a bell tower that stands 87m tall. It is really something gorgeous, built between the 13th and 16th centuries and inspired by the great cathedrals of Northern France.
Old Rodez: The heart of the city is a beautiful historic one. Start your walking tour from the tourism office and stroll down the streets to Bishop's Place. Stop in a cafe and take in the Ruthénoise atmosphere.
Parc de loisiers de Combelles: Situated around the town monastery, this beautiful 300-acre park is a welcome oasis of lush green trees and grass, the perfect place for a summer picnic.
Find more information on Tourism Aveyron.
Accommodation in Rodez
Rodez has it all when it comes to hotels and accommodation. Book a room in a stunning old mansion or in a more modern mid-range hotel. There are also more traditional gites if you want a classically French experience!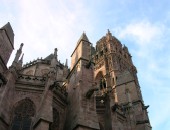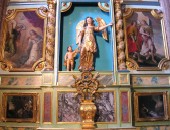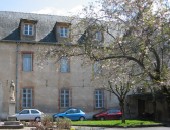 All flight tickets to Rodez (France)
Sorry! We haven't found any flights to Rodez. Try launching another search above.