When to find the cheapest flights to Salzburg
Sorry! We haven't found any flights to Salzburg. Try launching another search above.
Choose your departure month
Salzburg guide: how to get there, what to see
| | |
| --- | --- |
| | Salzburg city centre |
| | W.A. Mozart International Airport (SZG): 2 mi from city centre |
Flights to Salzburg: practical information
Cheap airlines to Salzburg
Are you planning an Austrian adventure? Cheap flights to Salzburg are certainly a good solution. Salzburg W. A. Mozart International Airport (SZG) is only 20 minutes away from the city centre and sees flights landing from all over the world. If you're looking for the cheapest flights to Salzburg, stick with a low cost airline.
When to book flights to Salzburg
People come to Salzburg from around the world to experience the Salzburg Festival and if you have the same idea, consider booking your Salzburg flights early. The cheapest fares are always found 3-4 months in advance. While summer is popular, many people plan holidays in Salzburg in winter and take-off from there for skiing.
Peak season: In summer, especially during holidays and the Salzburg Festival.
Low season: Spring, autumn.
Flight duration
Direct flights to Salzburg take just over two hours from London.
Experience Salzburg: what to see, what to do
A walk through Salzburg's narrow streets in the old town will take you back through time. The central market is the best place to shop for cheese, meats and fresh baked goods as well as pop into the famous chocolate shop for the authentic Mozart kugels. If you have extra time, consider a Salzburg car hire and explore the city outskirts with a trip up into the mountains.
Essentials in Salzburg
Salzburg Cathedral: This is probably the most important building in Salzburg. The cathedral was built in 767 but was destroyed by fire and rebuilt. This was the church were Wolfgang Amadeus Mozart was baptised.
Hellbrunn Castle: This Renaissance castle is a must for overseas travellers. It was modelled after Mediterranean castles and the gardens are especially beautiful.
Mozart's House: You'll find the birth place of Mozart at 9 Getreidegasse right in the city centre. The Mozart family lived here between 1747 and 1773. Today you'll find a museum which was established already in 1880. The collection includes instruments, documents and historic memorabilia connected to the famous composer.
Find more information on Salzburg.info.
Accommodations in Salzburg
Looking for hotels in Salzburg for your trip? Salzburg has quite a good selection when it comes to accommodation to fit different budgets and styles. During the holidays and festivals, you'd be wise to book your hotels far in advance if you want to avoid paying over-the-top prices.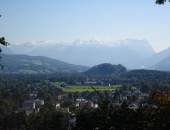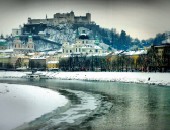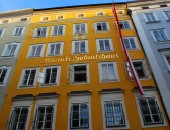 Salzburg in the Traveller's Magazine
Travel News
Ryanair and EasyJet have added new routes for the coming fall and winter. Catch cheap flights from London or Leeds-Bradford to Riga, Kaunas and Salzburg for unforgettable weekend city breaks.
Travel Inspiration
Safety is a huge priority when travelling the world. These countries though, are known to be some of the safest in the world. From Canada to Austria, have you visited any of these places?
All flight tickets to Salzburg (Austria)
Sorry! We haven't found any flights to Salzburg. Try launching another search above.