When to find the cheapest flights to Samos
Sorry! We haven't found any flights to Samos. Try launching another search above.
Samos: let your Greek adventure begin!
| | |
| --- | --- |
| | Samos city centre |
| | Samos International Airport (SMI): 6 mi from city centre |
Flights to Samos: practical information
Cheap airlines to Samos
Lusting after a trip to Greece's Aegean Islands? Plan a trip to Samos, in the North Aegean Sea. Situated right near Turkey's mainland it's the perfect spot for a Greek adventure and a Turkish one. Catch flights onboard Thomson Airways from May until October.
When to book flights to Samos
Samos is primarily a summer destination. Most airlines only offer summer flights, May to October, to the island with a huge influx of travellers in July and August. It's a good idea to book your flights to Samos Airport (SMI) at least three months in advance.
Peak season: Summer, especially July and August.
Low season: Winters are very quiet with few foreign tourists.
Flight duration
Direct flights to Samos take around 3 hours from London.
Experience Samos: what to see, what to do
Samos is popular for its beaches, both sandy and shingle, its charming resort towns, coastal paths and even flamingos! Get your swim suits, snorkels and beach towels and get ready for a lush summer holiday in the Greek isles!
Essentials in Samos
Beaches: Everyone's first priority when on holidays in Samos is to hit the beach. The most popular beach near Samos is Gagkou Beach. If you have a rental car, head further afield for sandy spots that are less crowded.
Coastal paths: From Gagkou Beach there is a really lovely coastal path that takes you past some clear coves with small beaches, great spots for swimming without the crowds.
Psili Ammos: A popular beach spot with a hidden attraction! Head to the west of the beach and you'll come across a small lake and a salt marsh where you can spot flamingoes in the early part of the summer. It's a great spot for bird-watching.
Find more information on Visit Greece.
Accommodations in Samos
If you're after a cheap hotel in Samos, you won't find it in July or August. Room prices tend to double during the summer months but from October to May you can find double rooms for as little as €20. Book early and of course it goes without saying that beach-front properties are the priciest on the island.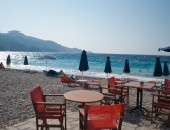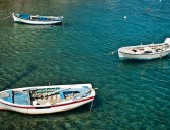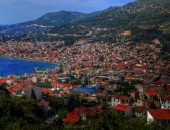 All flight tickets to Samos (Greece)
Sorry! We haven't found any flights to Samos. Try launching another search above.