When to find the cheapest flights to Sao Paulo
Sorry! We haven't found any flights to Sao Paulo. Try launching another search above.
Choose your departure month
Sao Paulo: diversity, culture and more
Distance from Sao Paulo city centre
5 mi
13 mi
49 mi
Flights to Sao Paulo: practical information
Cheap airlines to Sao Paulo
Sao Paulo is the biggest city in Brazil and has plenty to offer travellers from around the world! Start planning your holiday in Sao Paulo with flights to Guarulhos International Airport (GRU). This is the city's largest airport and most likely place where you'll land on flights to Sao Paulo from the UK. Airlines like Iberia, Air France, Lufthansa, KLM and British Airways operate cheap flights to Sao Paulo.
When to book flights to Sao Paulo
When planning your trip, keep in mind that Sao Paulo flights tend to be expensive, due to the distance travelled, and are the cheapest 5-6 months in advance. As a city home to 11 million, there's never really a quiet moment here.
Peak season: Summer, although major business/art/film festivals take place year-round attracting thousands.
Low season: Rain is most likely during the winter.
Flight duration
Direct flights to Sao Paulo take 11 hours from London.
Experience Sao Paulo: what to see, what to do
Sao Paulo is a huge city and you could easily stay a few weeks without even having broken the surface. The nightlife here is vibrant, the cultural experiences are intense… from 17th century churches to modern art galleries, here's what Sao Paulo has to offer.
Essentials in Sao Paulo
Historic Centre: Most of Sao Paulo's historic buildings are concentrated here. Essentials include the Catedral da Sé, the Pátio do Colégio (the place were Sao Paulo was founded in 1554), Largo São Bento (don't miss the monk's bakery) and Praça da República, known for its modern architecture… at least modern for 1935.
Rio Pinheiros: This is one of the most beautiful parts of the city. With soaring skyscrapers, luxurious mansions next to derelict flats, there division between the social classes is very clear here. You could very easily spend hours wandering around this neighbourhood.
Museums: If you only have time to visit a few museums make sure you have the Museu do Ipiranga and Memorial da América Latina on your list. They are not only huge, but also important historically and architecturally.
Find more information on Sao Paulo Tourism Board.
Accommodations in Sao Paulo
If you don't plan to travel all over the city by taxi then it's best to book a hotel in Sao Paulo that is within easy walking distance from a Metro station. Be sure to avoid degraded areas where it may be unsafe to walk at night. Staying in popular tourist areas is probably the best choice.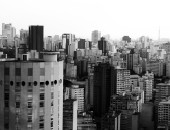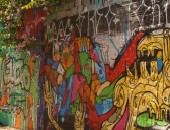 Sao Paulo in the Traveller's Magazine
Travel News
Brazil is gearing up for FIFA World Cup 2014 and the Final Draw has now been announced. Here are the details for England.
Travel Tips
Best steer clear of these beaches and waters as pretty as they may look you risk shark attacks, jellyfish stings, fox bites, being blown away by a tropical storm and more.
Travel Inspiration
Coffee is the drug that fuels our cultures. Wondering where to find the best cups of coffee in the world? From Turkey to Austria and all the way to Brazil... finding a good caffe isn't that hard. Here are 5 cultures that are undeniably addicted to it!
All flight tickets to Sao Paulo (Brazil)
outbound:
20-Aug-2020
1 stop (27h30m)
KLM
return:
31-Aug-2020
1 stop (15h10m)
KLM