When to find the cheapest flights to Sarajevo
outbound:
04-Oct-2021
2 stops (17h45m)
Air France
return:
10-Oct-2021
2 stops (17h10m)
Turkish Airlines
Sarajevo: where cultures meet
| | |
| --- | --- |
| | Sarajevo city centre |
| | Butmir Airport (SJJ): 3 mi from city centre |
Flights to Sarajevo: practical information
Cheap airlines to Sarajevo
Heading to Bosnia and Herzegovina? Start your trip planning with cheap flights to Sarajevo Airport (SJJ). There are no direct flights from the UK but Pegasus Airlines, Air Serbia, Croatia Airlines and British Airways offer cheap flights to Sarajevo with stopovers.
When to book flights to Sarajevo
Sarajevo experiences very hot summers and considerably cold winters. Spring and fall are the most ideal times of the year to plan a holiday in Sarajevo. That being said summers are always popular with visitors heading to the coast. Book your flights at least 4 months in advance.
Peak season: Spring and into summer.
Low season: Winters are dismally cold and unpleasant weather-wise.
Flight duration
Flights to Sarajevo take around 4 hours with stopovers from London.
Experience Sarajevo: what to see, what to do
Sarajevo is one of the most interesting cities in Europe, where cultured met and clashed between the Western Roman Catholics, Eastern Orthodox and southern Ottomans. Today the city is undoubtedly western with major influences from the east. There's little trace of the Yugoslav Wars of the 1990s.
Essentials in Sarajevo
Old Town: Sarajevo's old town streets are cobbled with stone and lined with Oriental shops. It's a far cry from what we're used to in Europe. When the call to prayer begins, you could even imagine that you're off in the Middle East.
Latin Bridge: This is one of the most famous bridges in the city, only due to location. Just across the street from the bridge the Archduke of the Austrian Hungarian Empire, Franz Ferdinand was assassinated on June 28th, 1914.
Outer Sarajevo: For some stunning views of Sarajevo, it's best to head to the hills that surround the city. It's very important to only stick to main paved roads and sidewalks. DO NOT walk in any fields, grass or wooded areas as many land mines still existed from the war.
Find more information on Sarajevo Tourism.
Accommodation in Sarajevo
Sarajevo offers plenty for travellers with every type of budget. Youth hostels and pension abound and there are plenty of hotels in the mid-range to choose from. For something a little more familiar and luxurious try the Holiday Inn near the train station.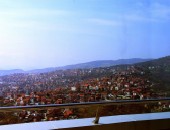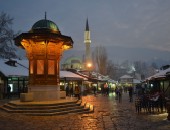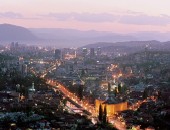 All flight tickets to Sarajevo (Bosnia Herzegovina)
Sorry! We haven't found any flights to Sarajevo. Try launching another search above.