When to find the cheapest flights to Shanghai
outbound:
05-Dec-2020
1 stop (19h40m)
Singapore Airlines
return:
12-Dec-2020
1 stop (21h30m)
Singapore Airlines
Shanghai guide: how to get there, what to see
Distance from Shanghai city centre
8 mi
21 mi
Flights to Shanghai: practical information
Cheap airlines to Shanghai
Planning a trip to Shanghai? We don't blame you, this city is off the hook! Search for flights to Pudong International Airport (PVG), located 40km east of the city. It welcomes flights from all over the world. Being long-haul the best chance of a cheap flights to Shanghai is to wait on a promotion or book your Shanghai holiday flights at least 6 months in advance.
When to book flights to Shanghai
Shanghai's climate is humid and subtropical which means that summers can be pretty hot with searing humidity so get ready to sweat. Unexpected thunder storms are common in summer.
Peak season: Fall, when weather is mildly warm and sunny.
Low season: Summer and winter.
Flight duration
Direct flights to Shanghai take around 12 hours from London.
Experience Shanghai: what to see, what to do
Shanghai is huge; it's home to over 23 million people! You can bet there is no shortage of things to do while your'e visiting. Which district you visit largely depends on what you want to see. These ideas are just the beginning...
Essentials in Shanghai
Modern architecture: Shanghai is really futuristic, some of Asia's tallest and most incredible skyscrapers are located here. Follow the Huangpu River bank in the Luijiazui District to see the Oriental Pearl Tower and the Jin Mao Tower.
Tea Houses: One of the best experiences to have in Shanghai is at a traditional tea house. Just watch out because many tea house scams are aimed at tourists. Best to ask for a recommendation from your hotel or fellow traveller.
Shanghai City Beach: Jinshan City Beach on the northern side of Hangzhou Bay is beautiful, a must visit. The scenery is stunning, not to mention the crystal blue waters and the soft, golden sands.
Find more information on Meet In Shanghai.
Accommodations in Shanghai
Shanghai is by far one of the best-equipped cities for hotels in China. There is plenty of variety and the service is incomparable. From cheap and simple backpackers hostels to full-out luxury apartments and everything in between, make sure you compare prices and districts before booking your hotels in Shanghai.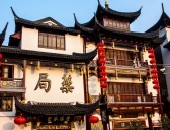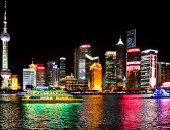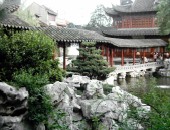 Shanghai in the Traveller's Magazine
Travel Tips
Travelling to Shanghai on a budget? Check out these tips for visiting this Chinese city without breaking the band.
Travel News
The new year brings good news for travellers heading to China in 2013. As of today, the government has lifted the short-stay visa restrictions for both cities allowing 3-day visits possible without a visa. Three hips and three hoorays for that! Short-stay visas no longer required Travellers in transit in China are now able to … Continued
Travel Inspiration
As universal as English may be, it only takes you so far. As a traveller in China you're left to decipher the "Chinglish" translations on signs all on your own. While Shanghai is trying to clean up its mis-translated signs, you can still find them in abundance all over the country! What is Chinglish? Chinglish … Continued
All flight tickets to Shanghai (China)
Sorry! We haven't found any flights to Shanghai. Try launching another search above.