Find the cheapest flights to Slovakia by date
outbound:
22-Oct-2021
direct (2h05m)
Ryanair
return:
24-Oct-2021
direct (2h10m)
Ryanair
outbound:
22-Oct-2021
direct (2h05m)
Ryanair
return:
24-Oct-2021
direct (2h10m)
Ryanair
Slovakia: castles, caves and the Tatras
Flights to Slovakia: practical information
Cheap airlines to Slovakia
Planning a trip to beautiful Slovakia? This central European country has it all from charming towns, mountains, lakes and plenty of history to discover while on holidays in Slovakia. Search for flights Bratislava International Airport (BTS) onboard Ryanair and Norwegian Airlines. Wizz Air also flies London to Slovakia.
When to book flights to Slovakia
Slovakia is a great country to visit year-round. In winter, skiing is a highlight and in summer, hiking, trekking and camping are a great way to experience the natural beauty of this region. Book your flights to Slovakia at least 3 months in advance for the cheapest flight fares.
Peak season: Summer is the best time to visit.
Low season: Winters are generally very cold but great for skiing.
Flight duration
Direct flights to Slovakia take 2 hours 35 minutes from London.
Experience Slovakia: what to see, what to do
Slovakia has an astounding number of castles and beautiful Baroque chateaus. In the mountains, you will stumble upon historic wooden churches and chalets, medieval mining towns and aragonite caves, one of the few of its kind open to the public anywhere in the world.
Essentials in Slovakia
Spiš Castle: If you have time to visit just one castle, this should be the one. Spiš Castle is located in eastern Slovakia and is the largest castle in Central Europe and dates back to the 12th century. It is a popular location for films.
Tatras: The High Tatras are Slovakia's mountains which feature quite a changeable terrain and some very beautiful viewpoints. In summer, hiking is king but in winter, Slovakians trade their boots in for skis.
Ochtinska Cave: This is one of the few aragonite caves open to the public in the world. It's a very unique place where needle-like crystals form flower patterns on the wall. It's simply incredible and a must-see.
Find more information on Slovakia.Travel.
Accommodations in Slovakia
There are plenty of hotels in Slovakia, especially in any mid to large-sized city. Bratislava and Košice have the best selection and likely prices. Quality between hotels across the country can vary and reading hotel reviews is a good idea before you book. Don't be disappointed, during festivals and summer, it's essential to book your hotels in Bratislava early.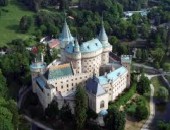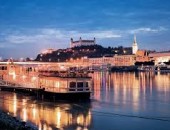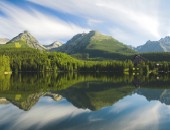 All flight tickets to Slovakia
outbound:
22-Oct-2021
direct (2h05m)
Ryanair
return:
24-Oct-2021
direct (2h10m)
Ryanair