Find the cheapest flights to South Africa by date
outbound:
30-May-2022
1 stop (17h45m)
Emirates
return:
06-Jun-2022
2 stops (21h15m)
Emirates
outbound:
30-May-2022
1 stop (23h55m)
KLM
return:
09-Jun-2022
1 stop (20h25m)
KLM
Mini guide: Cheap flights to South Africa, tourism and travel info
Flights to South Africa: practical information
Cheap airlines to South Africa
South Africa sure is tempting when the cold weather rolls in at home and summer is just getting started in the southern hemisphere. It's easiest to touch down with flights to South Africa in either Cape Town or Johannesburg from the UK. Catch the cheapest flights to South Africa with all the major contenders like British Airways, South African Airways, Air France and Emirates. It is a long way but most airlines offer direct flights to South Africa, even from smaller UK departure cities like Birmingham.
When to book flights to South Africa
South Africa's seasons are opposite what we're used to at home. With that in mind our winter (South Africa's summer) is peak season when everyone flocks south as the cold weather hits in the UK. For the cheapest flights to South Africa, consider visiting in fall or spring and booking your tickets 3-6 months in advance.
Peak season: Between October and March.
Low season: The rest of the year. Keep in mind that the South African winter can also be quite cold.
Flight duration
Flights to South AFrica take 11h 30min, London to either Johannesburg or Cape Town.
Experience South Africa: what to see, what to do
As the name reveals, you'll find the Republic of South Africa on the very southern tip of the continent of Africa. Many who visit the country make a stop in the capital, Jo'burg but also spend time on the coast near Cape Town or going on a wildlife safari in Port Elizabeth. There is so much to see and do while on holidays in South Africa, it'll be hard to leave at the end of your trip!
Essentials in South Africa
Cape Town: This southern city attracts a large number of tourists each and every year. Table Mountain is a huge attraction and from here there are plenty of excursions you can take to the nearby islands, including the one where Nelson Mandela was imprisoned.
Johannesburg: First stop in this gigantic city is the Carlton Centre where you can get breath-taking views of the city from its observation deck. This is a city of contrasts, from the slums to the mansions. It's essential to visit the Museum of Africa if you hope to get a glimpse at this country's history and the city's people.
Port Elizabeth: The beautiful Victorian architecture in this town will charm you over as soon as you arrive. There are fantastic beaches nearby and is an essential stop along the Garden Route, one of the most scenic drives in the world and best tackled with a South Africa car hire. It's also the perfect place to start from if you want to visit the famous Addo Elephant National Park.
Find more information on SouthAfrica.net.
Accommodations in South Africa
There is a lot of choice when it comes to accommodation in South Africa and rooms come in every price range. In the cities, book your rooms well in advance but don't miss out on the deal of booking a secluded hut or cabin overlooking the coast in the off-season, a steal as far as South Africa hotels go.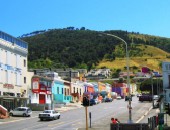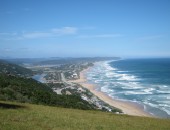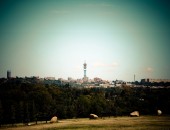 All flight tickets to South Africa