When to find the cheapest flights to Stornoway
Sorry! We haven't found any flights to Stornoway. Try launching another search above.
Stornoway: welcome to the Outer Hebrides
| | |
| --- | --- |
| | Stornoway city centre |
| | Stornoway Airport (SYY): 2 mi from city centre |
Flights to Stornoway: practical information
Cheap airlines to Stornoway
Heading to the Hebrides? Start planning your trip with cheap flights to Stornoway in the Outer Hebrides and a popular spot to start any adventure in the Western Isles. Catch cheap flights to Stornoway Airport (SYY) onboard Flybe from Edinburgh or Eastern Airways from Nottingham.
When to book flights to Stornoway
Summer is without a doubt the best time to plan a holiday in Stornoway and the Outer Hebrides. July in particular sees thousands arrive to the city for the annual Celtic Festival. May to August is the driest time of year so book your flights at least three months in advance if visiting in summer.
Peak season: Summer, particularly July.
Low season: Winters are generally damp and cold.
Flight duration
Direct flights to Stornoway take 1 hour 30 minutes from London.
Experience Stornoway: what to see, what to do
Stornoway is the only town on the island of Lewis and a perfect base for trips in the Outer Hebrides. What is there to do? Explore castles, tour museums, taste some traditional black pudding, watch the fishermen bring their catch of the day in and discover the ancient Callanish Stones.
Essentials in Stornoway
Surfing: Summers are rarely so warm that you could spend your whole day at the beach but one water sport that is growing in popularity, especially on Lewis, is surfing. The beaches are clean and beautiful and the breaks are some of the best in Europe. There is good surfing on both the west and east coasts of the island.
Historic houses: There are two towns which offer great living museums. Arnol's Black House Musuem features a traditional thatched home typical of the type used 100 years ago. Garenin Historic Village is also pretty but not as historically accurate as Arnol.
Callanish Stones: These neolithic rocks predate the Egyptian pyramids and are one of the region's most famous archaeological sites. The standing stone circle is just as important and impressive as Stonehenge and a must see while on Lewis.
Find more information on Visit the Hebrides.
Accommodations in Stornoway
There is a wide variety of hotels in Stornoway which range quite a bit in price. You'll find a number of youth hostels and plenty of B&Bs. There are also plenty of self-catering houses and cottages too. Advance booking is essential in June, July and August.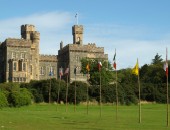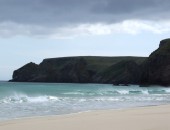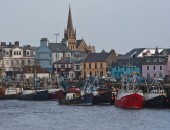 All flight tickets to Stornoway (United Kingdom)
Sorry! We haven't found any flights to Stornoway. Try launching another search above.