When to find the cheapest flights to Tobago
Sorry! We haven't found any flights to Tobago. Try launching another search above.
Tobago: Caribbean island paradise
| | |
| --- | --- |
| | Tobago city centre |
| | Arthur Napoleon Raymond Robinson International Airport (TAB): 12 mi from city centre |
Flights to Tobago: practical information
Cheap airlines to Tobago
Tobago is a dream to visit. Are you planning a trip to this corner of the Caribbean? Start your trip planning with cheap flights to Tobago Airport (TAB) on the southern part of the island. British Airways offers direct flights from London, as does Virgin Atlantic. Seasonal charter flights also fly from Europe.
When to book flights to Tobago
Due to its location, the weather in Tobago is the same year-round. Rainy season arrives in June and can last until November so best to plan your holiday in Tobago during the dry season, during English winter. Book your flights to Tobago at least 6 months in advance for the best prices.
Peak season: January to March, but especially February during Carnival.
Low season: During the rainy season, June to November when tourism practically doesn't exist.
Flight duration
Direct flights to Tobago take 10 hours 40 minutes from London.
Experience Tobago: what to see, what to do
If you don't like the business of Port of Spain, take a trip over to Tobago. The western side of the island is full of beautiful postcard-perfect beaches while the eastern side is full of protected rain forests, the oldest protected one in the western hemisphere.
Essentials in Tobago
Bucco Reef: Located at Pigeon Point, the Bucco Reef is one of the best places in Tobago to go scuba diving and snorkelling. Pigeon Point is also one of the most touristy beaches on the island with plenty of amenities like cabanas, espresso bars and drink stands.
Little Tobago: Little Tobago is a small island just off the coast from Speyside. It's a protected bird sanctuary so there is no place to stay overnight but is a great place to take a day trip if you're interested in hiking. Don't forget to pack a pair of binoculars!
Mount Irvine Beach: If you hope to learn to surf while visiting Tobago, head to this place. Both locals and tourists love it for the surfing and it's also a great place to watch the sunset from the beach-side bar.
Find more information on Go Trinidad and Tobago.
Accommodations in Tobago
There are plenty of hotels in Tobago as well as beach-side resorts. In the peak season it's essential to book your hotels in advance but in the shoulder seasons, you'll find the prices drop significantly and the crowds disappear completely (October-December/April-June).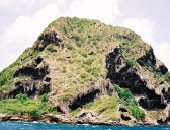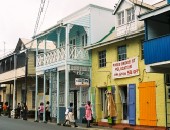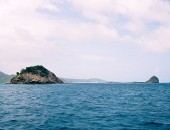 All flight tickets to Tobago (Trinidad and Tobago)
Sorry! We haven't found any flights to Tobago. Try launching another search above.