When to find the cheapest flights to Treviso
Sorry! We haven't found any flights to Treviso. Try launching another search above.
Treviso: villas, art and tiramisu!
| | |
| --- | --- |
| | Treviso city centre |
| | Sant'Angelo Airport (TSF): 3 mi from city centre |
Flights to Treviso: practical information
Cheap airlines to Treviso
While in Venice, don't miss a trip to Treviso! This Italian city is gorgeous! Catch cheap flights to Venezia (Treviso) Airport (TSF). Treviso has a regional airport used by Ryanair, mostly catering to tourists on their way to Venice. Ryanair flies direct from London Stansted.
When to book flights to Treviso
Treviso and the surrounding region are very popular in summertime thanks to the nearby beaches. Carnival time in March is also a popular time to visit Treviso and nearby Venice. Book your flights to Treviso at least 3 months before your planned departure.
Peak season: Summer, May to September.
Low season: Winter, spring.
Flight duration
Direct flights to Treviso take 2 hours from London.
Experience Treviso: what to see, what to do
If you have a soft spot for antique villas, Treviso will definitely suit you! The city and surrounding towns have some really beautiful villas, which you can tour by bike. Don't leave without a taste of Tiramisu!
Essentials in Treviso
Antique Villas: Treviso and the surrounding region are famous for their antique villas. Some you can only see from the outside but these are a few of the best: Villa Emo, Villa Manfrin, Villa Passi, Villa Minelli and Villa Lattes.
Seminario Vescovile di Treviso: Art lovers will appreciate a visit to this place to see the "Sanza Affrescata" painted by Tommaso da Modena. It's a portrait of the first monk painted wearing spectacles.
Tiramisu: This classic Italian pudding was "invented" in Treviso at Ristorante le Beccheris in Piazza Ancilotto. Today you can still taste the original recipe, with sayoyard biscuits, at a Pasticceria near the train station.
Find more information on Visit Treviso.
Accommodation in Treviso
Treviso has a few hotels to accommodate visitors. For a hotel close to the airport try to BHR Treviso Hotel. The beautiful Hotel Relais Monaco is in a converted Venetian villa and is in the mid-range, the perfect place for your holiday in Treviso!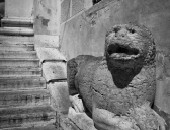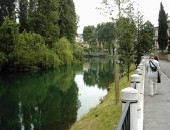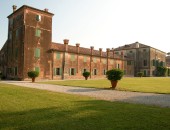 All flight tickets to Treviso (Italy)
Sorry! We haven't found any flights to Treviso. Try launching another search above.