When to find the cheapest flights to Tromso
outbound:
02-Aug-2021
1 stop (11h10m)
Air France
return:
08-Aug-2021
1 stop (12h15m)
Wizz Air
Choose your departure month
Tromso: the Arctic Circle awaits!
| | |
| --- | --- |
| | Tromso city centre |
| | Tromsø Airport, Langnes (TOS): 3 mi from city centre |
Flights to Tromso: practical information
Cheap airlines to Tromso
Are the Northern Lights calling your name? Take off on flights to Tromso Langnes Airport (TOS), the Arctic Circle is waiting! From London, catch Tromso flights onboard Norwegian Air (from Gatwick) and SAS (from Heathrow). From the rest of the UK, it's cheapest to travel to London before catching flights to your Tromso holiday.
When to book flights to Tromso
Tromso is truly a year-round destination. In winter, many hope to see the Northern Lights and enjoy the snowy conditions while in summer, May to July, the city barely experiences night. Whichever time you book flights to Tromso, do it at least 3-4 months in advance.
Peak season: Christmas and summer when the city enjoys midnight sun.
Low season: Spring and fall.
Flight duration
Direct flights to Tromso take 3 hours 35 minutes from London.
Experience Tromso: what to see, what to do
Tromso is located at the northernmost part of Norway, 350km north of the Arctic Circle and is one of the most spectacular places to see the Northern Lights in winter. Summer brings festivals and parties as the sun never sets.
Essentials in Tromso
Aurora Borealis: Tromso is a very good place to see the Northern Lights in winter. They're most visible between 6pm and midnight between September and March on cloudless nights. March is the driest month of the year, so chances are very good of sighting the lights.
Lutheran Cathedral: Religious or not, the city's wooden cathedral is a must. Tromso is very Lutheran and the cathedral is the most northern Protestant one in the world, built in 1861.
Northern wilderness: Tromso is a great stepping off point for exploring the Arctic. Just outside the city are gorgeous fjords and mountains which are home to puffins, eagles and plenty of whales.
Find more information on Visit Tromso.
Accommodations in Tromso
Hotels in Tromso are generally on the more expensive side, with few luxury choices but also very few budget ones as well. In summer it's very difficult to find a hotel room upon arrival, especially June and during the Midnight Sun Marathon. March is also very busy month. Always book your hotel rooms in Tromso as far in advance as possible.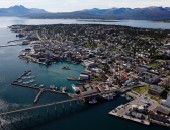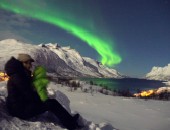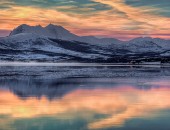 All flight tickets to Tromso (Norway)
Sorry! We haven't found any flights to Tromso. Try launching another search above.