When to find the cheapest flights to Verona
Sorry! We haven't found any flights to Verona. Try launching another search above.
Verona guide: how to get there, what to see
| | |
| --- | --- |
| | Verona city centre |
| | Valerio Catullo Airport (VRN): 6 mi from city centre |
Flights to Verona: practical information
Cheap airlines to Verona
Verona-Villafranca Airport (VRN) welcomes flights from all over Italy as well as other European cities. Fly direct from London with British Airways, Ryanair, germanwing and others.
When to book flights to Verona
Verona, along with the whole north of Italy, is beautiful come spring, making it a great time to visit for prices of flights to Verona as well. The winters are mild while the summers stay cool from the winds brought in my the sea.
Peak season: Easter holidays, May-June, October and Christmas breaks.
Low season: Late-autumn, winter (excluding December) and early spring.
Flight duration
Direct flights to Verona take 2h from London.
Experience Verona: what to do, what to see
Not to be cliché but it's hard NOT to fall in love with this city at first sight. All it take is one
holiday to Verona
and you'll see why not only lovers flock to this city. Recognised as a UNESCO World Heritage Site, Verona was wooed poets and painters for centuries.[/p]
Essentials in Verona
Roman Arena: This arena, built in the 1st century AD, has survived the test of time, including an earthquake the in 12th century! During the summer the area hosts a wealth of performances by the opera industry's best names. During the winter many classical concerts take place.
Giardino Giusti: There's nothing unromantic about this beautifully sculpted garden, open since the 1500s. Legend has it that if lovers can find each other in the shrub maze then they are destined to be with each other.
Casa di Giulietta: If you can't find Juliet's house just follow the girls. It's located just off of Verona's main shopping strip, Via Guiseppe Mazzini. According to history the city of Verona was actually controlled by a fierce rivalry between two families, it's no wonder Verona set the stage for Shakespeare's play.
Find more information on tourism.verona.it.
Accommodations in Verona
Hotels in Verona come in all shapes and sizes. There's no shortage of hotels either to accommodate the millions of tourists that flock to this romantic city every year. Lucky for the budget traveller, hotels in Verona are a lot cheaper than in nearby Venice. With rental cars being so cheap, you can really save a lot by staying outside the city limits.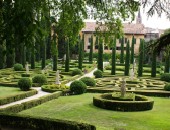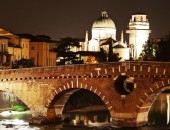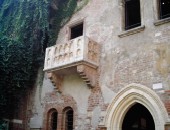 Verona in the Traveller's Magazine
Travel Inspiration
Verona is the city of love... and also opera. Catch a performance during this year's opera season at the Roman Arena for £79.
Travel Inspiration
Celebrate Shakespeare Day with a tour through Italy's cities where the Bard's plays took place. From Venice to Rome and beyond!
Travel Inspiration
There's more to this Italian city than the Arena and Juliet's balcony. Too many tourists visit for the day and leave without really exploring Verona and appreciating it for the city that it is. Give Verona a second glance and you won't be disappointed. Wandering Verona's streets You can only look at Juliet's balcony for … Continued
All flight tickets to Verona (Italy)
Sorry! We haven't found any flights to Verona. Try launching another search above.