When to find the cheapest flights to Zaragoza
outbound:
11-Nov-2021
direct (1h45m)
Vueling
return:
14-Nov-2021
direct (1h50m)
Vueling
Zaragoza:
| | |
| --- | --- |
| | Zaragoza city centre |
| | Zaragoza Airport (ZAZ): 7 mi from city centre |
Flights to Zaragoza: practical information
Cheap airlines to Zaragoza
Ready for your Spanish adventure? Zaragoza is strategically located between Madrid and Barcelona, the perfect stop with a rental car. Start planning your trip with cheap flights to Zaragoza Airport (ZAZ) onboard Ryanair from London Stansted.
When to book flights to Zaragoza
Zaragoza is best enjoyed in spring, from April to mid-June as well as autumn, September to October. The summer can be too hot for touring and exploring the city, plus all the locals have gone either to the seaside or up to the mountains. Book your flights to Zaragoza at least 3 months in advance for the cheapest fares.
Peak season: Spring and autumn, as described above.
Low season: Summer.
Flight duration
Direct flights take 2 hours 10 minutes from London.
Experience Zaragoza: what to see, what to do
Zaragoza is all too often overlooked but with more than 2,000 years of history to share, it's a wonder why! The city is famous for its rich culture, shopping, eating and some great sightseeing so make sure it's not just another stop along the way to Barcelona or elsewhere.
Essentials in Zaragoza
Basilica de Nuestra Señora de Pilar: This Roman Catholic church cannot be missed while visiting Zaragoza and its hard to miss, right on the riverside. This Baroque church was built between 1681 and 1872 and features paintings by Goya and Bayaeu on the ceilings.
Museo Pablo Serrano: For art fanatics, this contemporary art museum is a must. The collection includes sculptures, paintings, video installations and even studios for young artists.
Roman ruins: Zaragoza was a major city in Roman times and you can see remnants of that all over the place, starting with the Caesar Augustus statue in the city centre. There's also a Roman theatre there.
Find more information on Zaragoza.es.
Accommodation in Zaragoza
Zaragoza isn't short of hotels or accommodation however there are few choices for travellers in the budget category. Hotels should be book far in advance for cheaper room rates as hotels easily book up during festivals and holidays.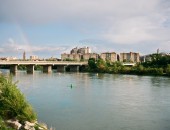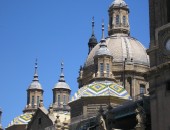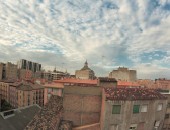 All flight tickets to Zaragoza (Spain)
Sorry! We haven't found any flights to Zaragoza. Try launching another search above.