Find the cheapest flights to Zimbabwe by date
outbound:
05-Aug-2021
1 stop (25h35m)
Emirates
return:
11-Aug-2021
1 stop (18h40m)
Emirates
Mini guide: Cheap flights to Zimbabwe, tourism and travel info
Flights to Zimbabwe: practical information
Cheap airlines to Zimbabwe
Southern Africa is waiting! Are you planning to spend your holidays in Zimbabwe? Start your trip planning with flights to Zimbabwe. Harare International Airport (HRE) is the most popular place for travellers to touch down from England with Air Zimbabwe or British Airways.
When to book flights to Zimbabwe
The weather in Zimbabwe is glorious apart from the rainy season which is from November to March. The best time to visit is during the summer although it can get pretty hot then. Best to book your flights at least 6 months in advance for the best fares.
Peak season: Summer.
Low season: Rainy season, November through March.
Flight duration
Flights to Zimbabwe with 1 stopover take at least 14 hours 30 minutes from London.
Experience Zimbabwe: what to see, what to do
Zimbabwe is an incredible country. With some of the best national parks in Africa, impressive ruins that from one of the greatest African civilisations after the Pharaohs and impressive waterfalls… welcome to Zimbabwe!
Essentials in Zimbabwe
Victoria Falls: This is one of the most famous waterfalls in the world and is located partly in Zambia and partly in Zimbabwe. From the Zimbabwe side of the falls you can get a full view of falls, unlike on the Zambian side.
Great Zimbabwe Ruins: If you have a Zimbabwe car hire, take a trip to these fantastic ruins near Masvingo, the third largest city in Zimbabwe. The Kingdom of Great Zimbabwe dominated where the country stands today but the last remaining ruins are in Masvingo and span an impressive 1,800 acres. A visit to this place is a must.
Mana Pools National Park: Planning to go on a safari while you visit Zimbabwe? Take a trip to Mana Pools National Park south of the Ambezi River. The park is an UNESCO World Heritage Site and hosts an impressive number of elephants, hippos, lions, giraffes and antelope.
Find more information on Zimbabwe Tourism.
Accommodations in Zimbabwe
Zimbabwe is well-equipped for tourism and there is a wide selection when it comes to hotels in Zimbabwe. Big cities like Harare have something in every price range from international hotel chains to budget hostels. What about the Leopard Rock Hotel, described as "one of the most special places in the world" by HRH Queen Elizabeth, the Queen Mother?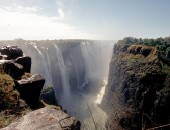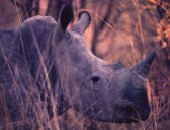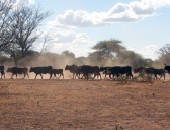 All flight tickets to Zimbabwe
Sorry! We haven't found any flights to Zimbabwe. Try launching another search above.