Restaurants today just aren't like they used to be. While there's still the classic Chinese buffet, Burger King (if you can call that a restaurant) and sushi joint… some foodie places are totally redefining the "dining experience." Underwater, in the sky, on top of a tree… who came up with these ideas?
Modern Toilet
Who wouldn't want to enjoy their lunch while sitting on the can? "Uuh…." Not surprisingly this quirky restaurant is located in Taiwan where it seems everything is possible. The place started as an ice cream shop, selling scoops of chocolate flavoured ice cream in toilet-shaped bowls. It was an instant success. Today you can dine in style at one of their chains, located all over Asia.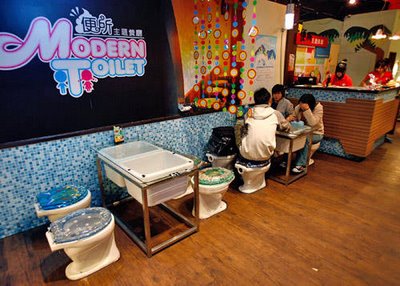 Floyd's Pelican Bar
It's all about relaxing at this dive bar, planted in a sand bar a half mile from the beach. You'll need a boat to reach it, it's about a 15 minute ride. While mostly a tourist spot for those vacationing in Jamaica, the cook makes great curry lobster and there is a good supply of beer and local rum. Note: if you easily get motion sickness, avoid heading out the restaurant on a windy day. The ride is said to be quite choppy when the waves pick up.
Buns & Guns
You could say that this Beirut restaurant serves up Lebanese food with a real… BANG! Outfitted to look like a real out-post during the war, you can dine in the protection of sandbags and to the sound of helicopters flying overhead. While being located in a notoriously war-torn area, many ask "why?" As long as people laugh, take it in good taste and enjoy the food, what's the problem?
Hospitalis
Would you like some surgical tools to eat that with? This hospital-themed restaurant in Latvia's capital certainly attracts its share of customers. The place looks like a retro surgery room and all the waitresses are dressed in nurse uniforms. Drinks are served in flasks and food on operating-room trays. The owners are doctors… so you know this is the real-deal.
Ithaa Undersea Restaurant
This pricey joint is located in the Maldives, under submerged in the Indian Ocean. It's the first totally transparent undersea restaurant in the world, just 5m below the surface. With a vibrant coral reef nearby, diners enjoy a full 270 degree panoramic view of the ocean's tropical fish. The place is extremely popular and it's necessary to make reservations for dinner two weeks in advance.
Sky-high Restaurant
A few of these are popping up around Europe, restaurants in the sky are all the rage in summertime dining. Especially when views of pretty cities like Brussels and Budapest are involved. How are enjoying a gourmet dinner 45m above the ground? These mobile restaurants use a crane to lift the entire dinner table (seating around 22 people) into the air. Did someone say al fresco?
The Redwoods Treehouse
This majestic restaurant seemingly hangs ten metres above the ground in a forest of redwood trees just north of Auckland. The structure is built totally sustainably with local resources and by local talent. The restaurant can accommodate thirty diners and about fifty people for more informal functions. Fancy a night in the trees?
What's the craziest restaurant you've ever dined in? Which ones of these would you be willing to try?
Imgs: official restaurant sites