When to find the cheapest flights to Moscow
outbound:
20-Jul-2020
1 stop (21h20m)
Air Baltic
return:
27-Jul-2020
1 stop (24h55m)
Air Baltic
Moscow guide: how to get there, what to see
Distance from Moscow city centre
17 mi
18 mi
26 mi
Flights to Moscow: practical information
Cheap airlines to Moscow
Whether you want to brave the bitter cold or experience the mild summers, Moscow is a beautiful place to visit for a holiday. From London you can fly to Domodedovo International Airport (DME) or Sheremetyevo International Airport (SVO) with British Airways, AeroSvit Ukrainian Airlines, Lufthansa, Swiss, Air Berlin and Aeroflot, Russia's national airline.
When to book flights to Moscow
Summer in Moscow is muggy and hot, crowded with tourists from all over the world. On the other when the winter winds are strong enough to take your breathe away and make seeing the city on foot rather... uncomfortable.
Peak season: July, August.
Low season: Winter.
Flight duration
Direct flights to Moscow take 3 hours 55 minutes.
Experience Moscow: what to see, what to do
You may already know a lot about the political history of Moscow but there is much more to this architecturally fantastic city than that. Of course the city is famous for the sights which totally changed, it seems, the history of the world.
Essentials in Moscow
Red Square: Every city tour starts in the Red Square, it's the heart of the city. Surrounding the square is St. Basil Cathedral, Lenin's Mausoleum, the Kremlin with the Tomb of the Unknown Soldier, recognised by its impenetrable brick walls.
Old Arbat Street: After visiting these major sights while on holidays in Moscow, take a walk down Old Arbat Street, a souvenir-shopper's paradise. It's all kitsch and beware of the jacked-up prices!
Costmonautics Museum: Sputnik revisited. There's no doubt (except to America) that Russia conquered space. The Cosmonautics Museum was built in the 1960s as a commemorative gesture to Sputnik.
Find more information on Russia Tourism.
Accommodations in Moscow
Moscow's top hotels deliver luxury services and great amenities... all at a very high price. The truth is that Moscow is in high-demand of some reasonable mid-range hotels. Many are still clad in Soviet-styled decor which... to some is fashionably kitsch.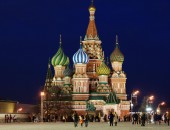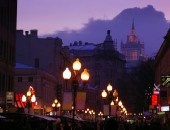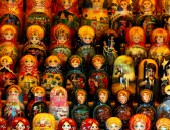 Moscow in the Traveller's Magazine
Latest news
Travellers from BRIC countries could soon enjoy visa-free travel to Russia.
Interviews
We caught up with Romain, our SEO guru, to chat about travelling, where to go and his favourite cities around the world.
Travel Inspiration
The Russian capital is very expensive should not be overlooked, even for those on a budget. Here's our guide to experiencing Moscow for free.
All flight tickets to Moscow (Russia)
outbound:
20-Jul-2020
1 stop (21h20m)
Air Baltic
return:
27-Jul-2020
1 stop (24h55m)
Air Baltic
outbound:
16-Dec-2020
1 stop (7h55m)
Lufthansa
return:
21-Dec-2020
1 stop (6h10m)
Lufthansa