You're in for a history lesson like no other if you book yourself a ticket on the legendary two-hour train journey from Kanchanaburi to Nam Tok. The film, The Railway Man, starring Colin Firth, follows the story of how this railway was made and one POW's experience. It's epic to say the least.
When a railway line gets a nickname like "Death Railway," you know it can't be good. But this trip is one of Thailand's most scenic and popular train rides and one we recommend you take, if not to learn a bit about WWII history you might not already know but to pay homage to the many who died making it.
It's the history that makes this trip, the views are just a bonus.
The railway gets its name from the suffering of tens of thousands of prisoners of war and local cheap labourers went through to construct all 250 miles of railway. It took 15 months and the workers had to survive on eager rations, sleeping on lice-infested bamboo mats and working endless hours. Thousands died in the process (roughly 13,000 Allied POWs and 90,000 Asian labourers); their graves used to dot the railway but have now been moved to graveyards in Kanchanaburi and elsewhere.
The ride
Leaving from Kachanaburi, the train chugs along over the bridge spanning the River Kwai and then takes you through Kwai Noi Valley, stopping quite frequently at small country stations, where sellers stand ready to sell frangipani and jasmine to tourists. Consider getting off at Tha Kilen (1 hour 15 minutes into the ride) to visit Prasat Muang Singh.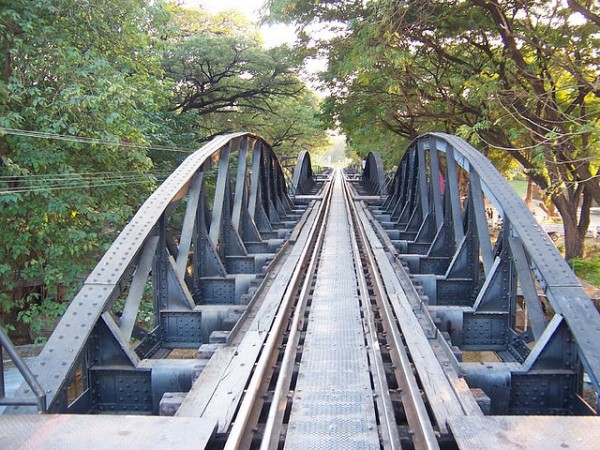 Twenty minutes from here, the most exciting part of the journey begins. It's a hair-raising section at Wang Sing, nicknamed "Arrow Hill," when the train narrowly squeezes through 30m-deep solid rock cuttings which were dug by thousands of POW. A few kilometres later, the train reaches the Wang Po viaduct where a 300m-long trestle bridge clings to the side of a cliff face. Almost every man who worked on this part of the railway died in the end, it was so dangerous.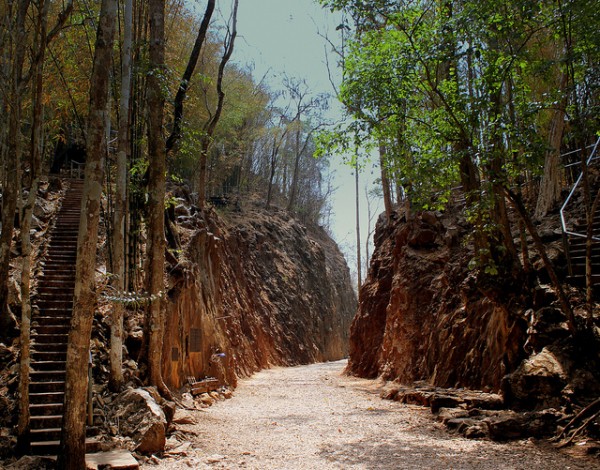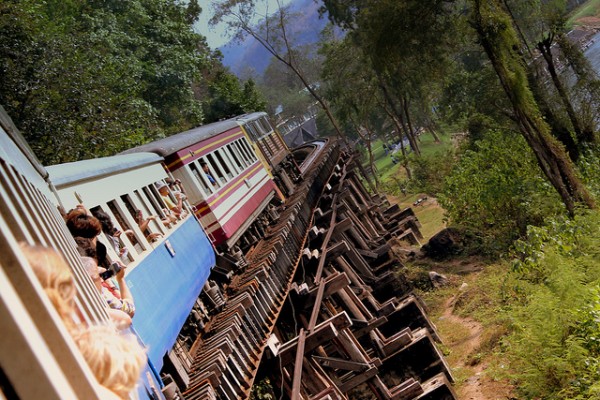 At the north end of the bridge is the next station, called Tham Krasae. The train continues through Kwai Noi and the scenery is just gorgeous here as the train passes thick jungle landscapes. It's only another half-hour before the train reaches its final destination: Nam Tok, two hours from the Burmese border.
What not to miss
Thailand-Burma Railway Centre in Kanchanaburi: this museum provides the context for the enormous loss of human life and just how big of an extraordinary feat in engineering it was to construct such a railway line.
Hellfire Pass Memorial Museum: located just north of the line's current Nam Tok terminus, this museum will provide visitors will a good overview of the railway's history.
For the best views, sit or stand on the right-hand side of the train if travelling towards Kanchanaburi and on the left-hand side if travelling towards Nom Tak.
Planning your trip
There are three trains daily along Death Railway in both directions, but you can expect them to run behind schedule. Trains depart from Kanchanaburi at 6:07am, 10:35am and 4:26pm. They return from Nam Tok at 5:20am, 12:55pm and 3:30pm.
First though, you'll need to book flights to Bangkok, and then travel west by train to Kanchanaburi.
Before your trip, this film is definitely a must-see…
Imgs: ianz, calflier001, kristophmc / Flickr cc.