Kids travelling solo is a big step to take but not all airlines have the same policies. Here's what you need to know before you drop your little darlings off at the departures gate.
Getting your kids ready for their first flight alone can seem a rather daunting experience, likely more for you than for your kids (they probably can't wait to embark on their first solo adventure!). The last thing we all want is a Home Alone drama of our own, which is why airlines and airports make it a priority to monitor and accompany children flying on their own from check-in to boarding.
Typically airlines require parents to request Unaccompanied Minor services at booking, which usually comes with a surcharge added to a standard adult fare. An adult is usually required to drop the child off at the airline's check-in desk and is required to wait at the airport until the flight has departed. Airline staff will then chaperone the child through every stage of the journey including security and boarding. That being said, conditions of carry vary from airline to airline, with certain restrictions in place in foreign countries like France and Portugal.

British Airways
British Airways has discontinued their Skyflyer Solo service and no longer accepts bookings for children under the age of 12 flying alone. All current bookings made with Skyflyer Solo are still valid, however no new bookings are being taken. If you have an existing Skyflyer Solo booking and wish to change your travel dates, the new journey must be completed before January 31 to retain use of the service and allow your kids to fly.
Children aged 12 to 18 years can travel on their own with British Airways, however no unaccompanied minor service is offered.
Virgin Atlantic
Virgin Atlantic accepts unaccompanied children on any flight from the age of 5 through to 15, when booked through the airline's unaccompanied minor service. If you're traveling in a different cabin than your children, but on the same flight, they will still need to travel as an unaccompanied minor and the same booking process must be followed as if they were travelling alone.
Children must be checked in by a parent or guardian and once you've waved them off through security, you'll need to stay at the airport until their flight has departed.
To book a flight for an unaccompanied minor, you'll need to do so through the airline's reservation service by phone, or through a travel agent. This service cannot be booked online.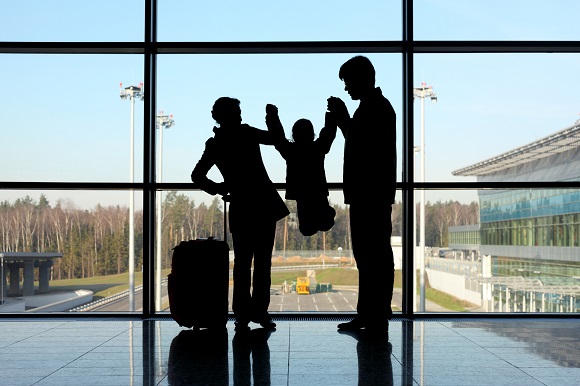 easyJet
easyJet does not accept children under the age of 14 for travel alone: children up to the age of 14 must be accompanied by a person aged 16 years or older.
Ryanair
Ryanair does not accept unaccompanied minors under the age of 16 for travel: children up to the age of 16 must be accompanied by someone aged 16 or older.
Flybe
Children between the ages of 5 and 12 can travel onboard Flybe as unaccompanied minors; this service must be requested through the Flybe Customer Call Centre before booking, and a supervisroy fee of £39 is charged per child. The airline also requires that a named custodian of the child(ren) is present at both departure and arrival points of the journey. Unaccompanied children are not permitted on flights which require a change of aircraft en route or transferring to or from another airline.
Thomas Cook Airlines
Children aged between 5 and 11 may travel with Thomas Cook without an accompanying adult. Unaccompanied Minors must be registered in advance and a fee applies to all children traveling with this service. Charges vary depending on the 'zone' of travel (see the Thomas Cook website for more information) and range from € 49.99 to € 64,99. Children up to the age of 16 may travel with this service.

Emirates
Emirates offers an Unaccompanied Minor service for children aged between 5 to 15, and for children under the age of 8 travelling in a separate cabin to their parents or guardian. Children under the age of 12 may not fly alone unless using the Unaccompanied Minor service. To use the service, an adult fare must be booked for your child: get in touch with your local Emirates office to register your child as an Unaccompanied Minor before booking. 
Etihad
Etihad requires that children aged 5 to 12 travel with its Unaccompanied Minor service; children aged between 12 and 16 may travel alone or using the Unaccompanied Minor service however the latter will come at an additional fee. Registration for the service takes place after you have booked your flight (an adult fare ticket must be booked for children traveling as Unaccompanied Minors), through the Unaccompanied Minor Form available on the Etihad website. 

Good To Know
> In general, if a change of aircraft or transfer to another airline is required during the journey, children are not permitted to fly alone.
> Children under the age of 5 may not travel alone and will need to be accompanied by a parent or guardian throughout the flight.
Do you remember the first time you took a plane? Did you ever travel alone as a child?
Imgs: Simon Lee, kristalong / Flickr cc.