Spain's capital city is often visited by those looking for culture, sunshine and amazing nightlife. As popular as it is, there is still a number of places off the beaten path just waiting to be discovered! As unbelievable as it might sound, some of these are unknown even to many locals.
A visit to Madrid is likely to include a trip to at least one of the following: the Gran Via, the Temple of Debod, the Plaza de Cibeles and the Buen Retiro Park, to name just a few! However the city has much more to offer, with hidden gems aplenty. These are the places worth adding to your itinerary on your next trip to Madrid.
The Royal Chapel of St. Anthony of La Florida (Moncloa)
A monument undiscovered by many, including locals, this chapel is worth visiting for what's inside: stunning frescoes by Spanish romantic painter Francisco Goya. Considered to include some of the artist's finest works, the Chapel also serves as his place of burial and is a Spanish Property of Cultural Interest. A must for art lovers and Goya fans!
Address: Glorieta San Antonio de la Florida, 4
Capricho Park (Barajas)
If you love open green spaces such as Madrid's popular Buen Retiro Park, El Capricho is a great place to visit. The historic park was built from 1787 to 1838 for the Duchess of Osuna, and time has left its mark in the form of the variety of styles which can be found here today. Wandering through the landscaped gardens of El Capricho is the perfect way to while away an afternoon in Madrid: check out the 18th-century mansion with its stunning gardens, water features and sculptures before heading to the bandstand to be transported to a time gone by.
Tip: The park isn't open every day and is located a little out of the centre of Madrid (get off at El Capricho station on metro line 5). Plan your visit in advance by checking out the schedule on the City of Madrid website.
Address: 

Paseo de la Alameda de Osuna, 25
Iglesia Patólica (Lavapiés)
Built as part of an initiative from the popular comic Leo Bassi and styled as if a church, this space instead offers a unique take on religion through parody. Churchgoers at the Iglesia Patólica worship a rubber duck (yes, really). Sunday mass is celebrated on a weekly basis and you can even get married here (which won't be legally binding though).
All jokes aside, a visit to the Iglesia Patólica with its mismatched interior and humorous perspective is an interesting experience. If you find yourself in the Lavapiés neighbourhood, make the trip to the church for a laugh and, perhaps, to find your new religion.
Address: T

ravesía Primavera
Church of San Antonio de los Alemanes (Centro)
If you want to admire the beauty of a church in a more serious manner, we'd suggest a visit to St Anthony of the Germans. Another lesser known space in Madrid, its exterior is plain. It's the interior which is truly striking. Located just behind the Gran Via on the Malasaña side, the baroque church is only open during mass but is well worth the trip to see the stunning frescoes that adorn its interior.
Address: 

Calle Puebla, 22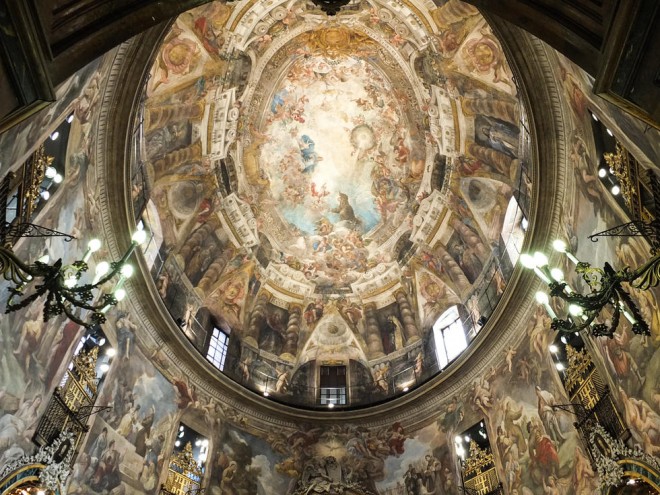 Adelita Market (Malasaña)
If you want a more authentic shopping experience in Madrid, away from the Gran Via with its international chains such as Primark, the Adelita Market in Malasaña is the place to see. If you're looking for something unique and different to buy, this is the place to be! Bargains can found in abundance at this market which opens on select days – check out the website for more information.
Address: 

Calle del Espíritu Santo, 23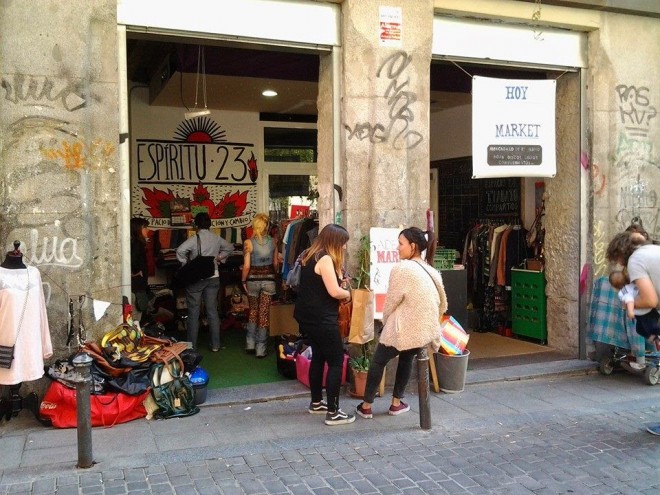 Plaza de la Villa de Paris (Colón)
A little piece of Paris in Madrid – that's how we'd describe this secluded square in front of the supreme court. Despite its central location near the busy Plaza Colón and Calle Génova, this square sees little footfall and is a great place to relax and let the time pass you by. A peaceful environment in the city, with architecture different from anywhere else in Madrid.
Address: Plaza Villa de Paris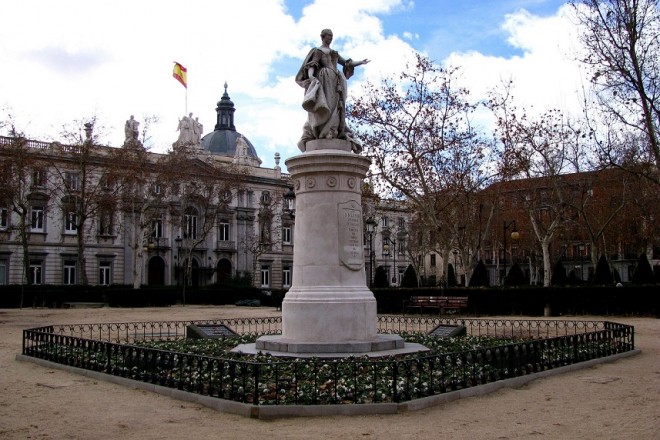 Museo de America (Moncloa)
This museum off the tourist trail in Madrid is home to a number of artefacts on culture from the Americas displayed in artistic, archaeological and ethnographic collections. From the Paleolithic period to the present day, there's plenty to see here. Although you can check out priceless pieces from throughout the ages here, the museum is nonetheless almost unknown – meaning no queues and the possibility to enjoy the environment to its fullest.
Address: 

Av. de los Reyes Católicos, 6
Plaza de Olavide (Chamberí)
If you're looking to explore traditional Madrid, be sure to stop off at the Plaza de Olavide in Chamberí. The Chamberí district is considered to be one of the most authentic in the capital and, thanks to its location away from the centre of the city, it's also frequented more by locals than tourists. After taking a trip to the nearby Museum Sorolla, featuring works by Spanish artist Joaquín Sorolla, head to the lively Plaza de Olavide – a great place to grab a drink and some tapas before settling in to people-watch and enjoy the vibrant atmosphere.
Address: Plaza de Olavide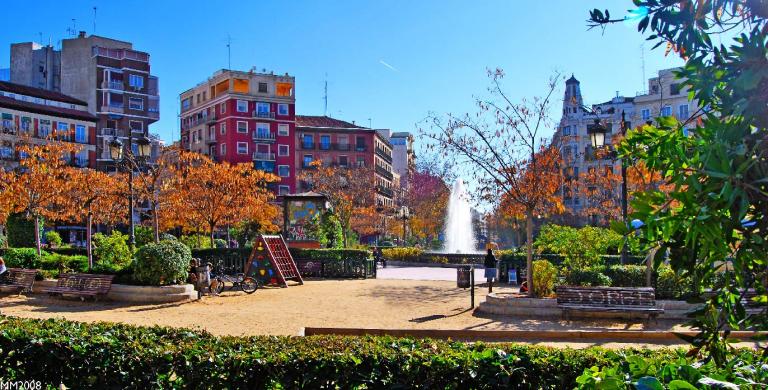 Pantheon of Illustrious Men (Pacífico)
Away from mainstream Madrid, in the Pacífico district, stands this relatively unknown monument initially constructed to house the great men of Spanish culture in its entirety – be that in literary, artistic or political fields. However the idea was ultimately discarded, the bodies of influential figures such as Garcilaso de la Vega, Quevedo and Calderón de la Barca were returned to their graves, and the space was instead turned into a National Pantheon. Today, famous Spaniards from the world of politics and more are buried here, including Sagasta, Cánovas del Castillo, Eduardo Dato y Canalejas. Built in a neo-Byzantine style, this is a must see for lovers of architecture and Spanish history alike.
Address: 

Calle Julián Gayarre, 3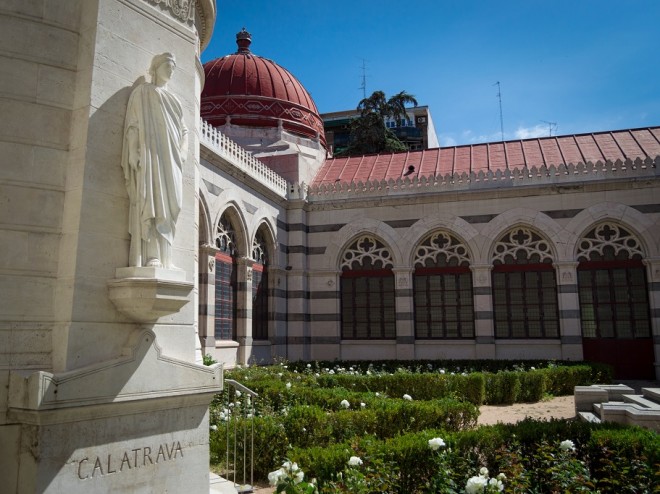 Bunkers at the Parque del Oeste (Moncloa)
Created at the beginning of the 20th century, the Parque del Oeste is home to a number of monuments and sights including the popular ancient Egyptian temple of Debod. During the Spanish Civil War, the park was also the site of the Battle of Ciudad Universitaria. The trenches and building bunkers can still be visited to this day. Visitors to this lesser known area can check out the bunkers, which are striking for their representation of destruction in a peaceful natural area.
Address: 

Paseo de Moret, 2