Everyone loves killer whale shows, dancing dolphins and sea lions that can juggle. But is it okay to put these animals into captivity for commercial exploitation? The documentary film "Blackfish" raises just that question.
The documentary's success has swept across the United States, Europe and the world, catching the attention of everyone and anyone who fell in love with Free Willy as a child. The name, "Blackfish" is significant; it's the name given to killer whales by First Nations groups in North America. The documentary film denounces the exploitation of these gentle giants of the sea (despite their common name calling them killers) in amusement parks and highlights just what life is like for them in captivity.
The film definitely pulls on the heartstrings of its viewers by following the story of Dawn Brancheau. Dawn was the senior trainer at SeaWorld who was killed in 2010 by the star killer whale of SeaWorld Orlando, Tilikum. According to the film's synopsis, it was not the accident that SeaWorld claimed it to be but rather a deliberate attack by a killer whale who had developed a psychosis due to its difficult conditions in captivity.
According to blackfishmovie.com, the director has set out to "explore the creature's extraordinary nature, the species' cruel treatment in captivity, the lives and losses of the trainers and the pressures brought to bear by the multi-billion dollar sea-park industry."
SeaWorld, Marineland and Loro Park
It's the SeaWorld brand and its parks in San Diego, Orlando and San Antonio that are mainly featured in the film but Loro Park in Tenerife is also included. Since the release of Blackfish, the public has been making a stand and the orca shows at SeaWorld are certainly suffering financially because of it.
The closest killer whale aquatic park to the UK is Marineland in Antibes on the Côte d'Azur. The park was opened in 1970 and the 26 hectare oceanarium, dolphinarium and marine zoological park is managed by a Spanish multinational company that also owns parks in the USA and Argentina.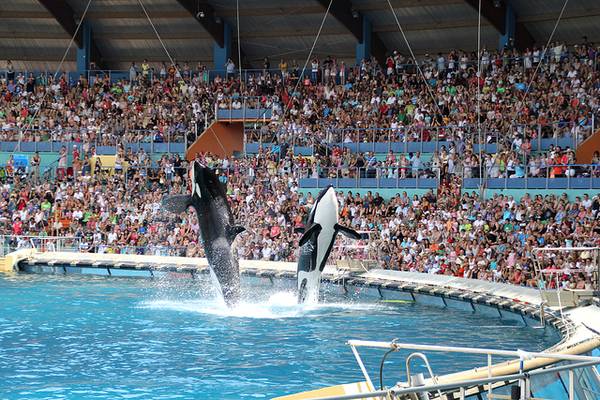 The Nouvel Observateur in France published a testimony from a former intern that worked at Marineland in Antibes,
"When I saw these majestic animals in their skimpy basins, turning around like goldfish in a jar, between two shows, I realised how much they had to be unhappy. They were dying of boredom."
In reply, Marineland denounces the inaccuracies of the documentary, saying that French and European standards are different than those in the USA.
But there are several questions still unanswered, is it moral to keep these kinds of animals in captivity? Should we introduce some of them back into the wild (there are around 50 orca whales in captivity around the world) to make a statement to the world that these creatures need to be protected?
But we want to ask you, should you go to SeaWorld or not? Tell us what you think!
Img: 
Andreas Ahrens / Flickr cc.