If you're hitting the ski slopes in the French Alps this winter, you may find more than just other skiers and a few snow angels on the hills. For the last ten years, British artist Simon Beck has been creating some amazing, and massive, geometric designs on snow-covered lakes using only his feet.
Simon Beck's work in sand and snow has gained him international acclaim that's reaching further than Les Arcs ski resort in France where it all started. This year, he is celebrating the winter season with a book called "Snow Art," which includes 200 photos of his work in the Alps.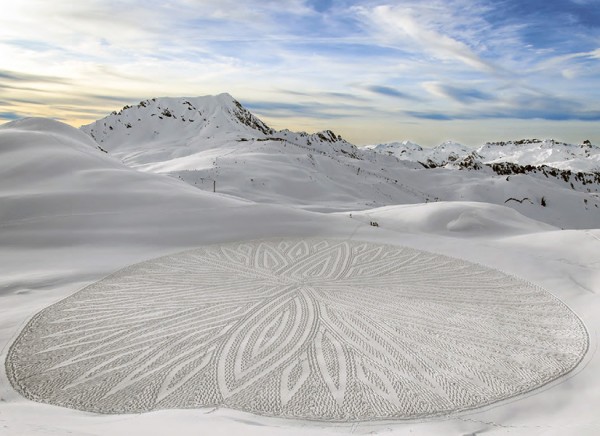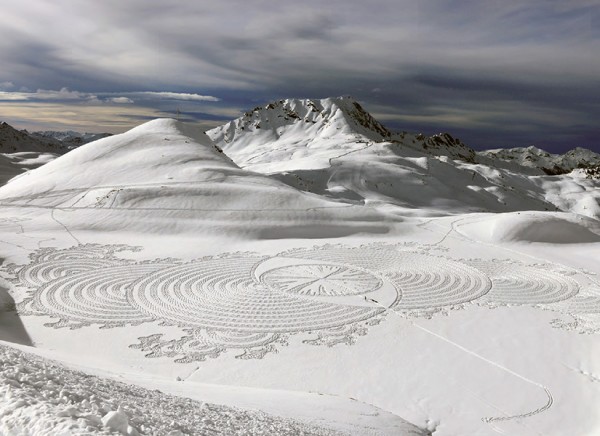 How did it all start for this artist? Well, the truth is, Simon Beck is an engineer who was working near Les Arcs as an orienteering cartographer. His first piece was simply a way to pass the time after a long day of skiing in the winter of 2004. It just took off from there.
"When I did my first drawing, I had no idea how good it was going to look," he says. "It's just so unusual and unique. No one else is doing anything like it."
It wasn't until five years later that Beck started to take his snow drawings seriously, when his snow drawings went from being just a hobby to being his main activity in the winter. With 150 snow drawings complete, Simon Beck's methods have changed quite a bit from when he started.
At the beginning he used to have to scout for locations and could only photograph his work from ski lifts or mountain tops but now he has the flexibility of an aircraft if he needs one. He's also switched from just a pair of winter boots to snowshoes.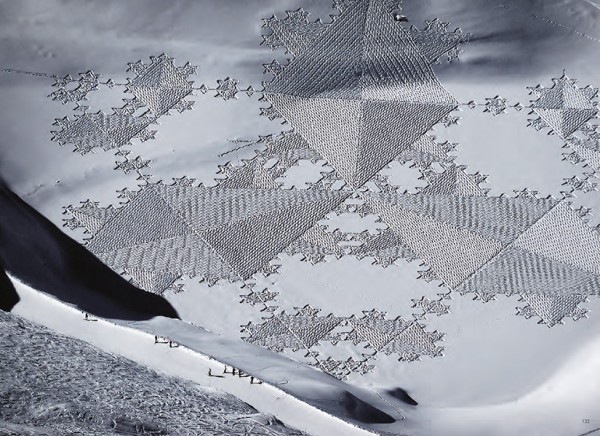 The drawings are on a massive scale. Beck sometimes walks 30+ kilometres across distances as large as six football fields with nothing but a compass and a map he designed himself that corresponds to the pattern he hopes to create. A single drawing can take as long as 12 hours to complete!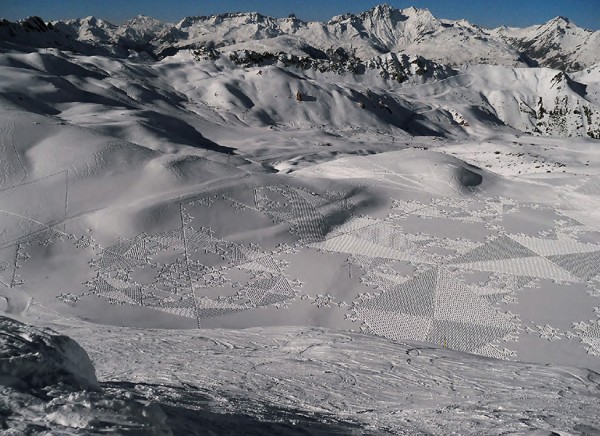 The next time you're on flights to Lyon and heading to the French Alps, keep your eyes peeled for some of Beck's incredible art. You never know where you might find it!
Imgs: snowart.gallery and nordique / Flickr cc.