Was Riga on your list of "must sees" for 2014 and you just didn't make it there? 2014 isn't over yet! Catch flights to Riga for only £55 with Wizz Air this month and soak up the Latvian capital's last weeks as European Capital of Culture.
Culture has been the main attraction this year in Riga as its run as the European Capital of Culture comes to a close. The city is going out with a bang this month as the hosts of the 2014 European Film Awards ceremony and dozens of exhibitions (perfect for those cold Baltic winter days!).
Riga in winter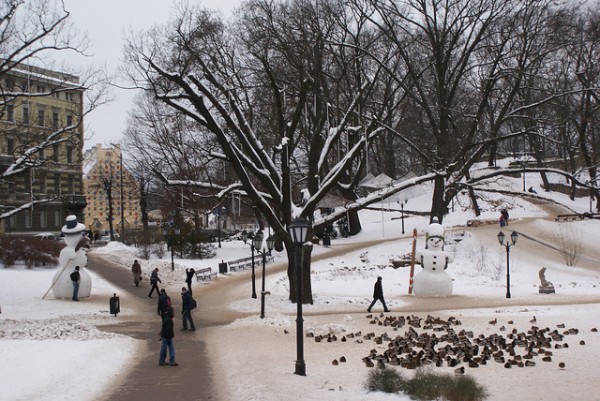 Riga is no warm place in winter but under a fresh blanket of snow, its medieval and Art Nouveau old town is simply stunning. The key to city sightseeing in winter is to plan a day with some breaks indoors. Luckily, there's plenty going on at Riga's top museums to keep your days full of culture, art and history:
Film Trophies
Explore Latvia's cinema history from the 1940s and 1950s at this exhibition at the Riga Film Museum. Enjoy screenings of post-WWII films at some of the city's historic and lavish cinemas too, a great (and warm) activity for the evenings. The Riga Film Museum is located at 10 Peitavas Street.
The Amber of Tutankhamen
This exhibition at the Art Museum Riga Bourse explores one of the more important commodities in the Baltic region, amber. Legend has it that a piece of Baltic amber was found in the tomb of Tutankhamen, on the pharaoh's chest. Some experts believe that it may be amber from the shores of the Baltic Sea that became a symbol of the Sun god Ra in Ancient Egypt.
Earthworks
Fancy a bit of art and design? This exhibition at the design salon "xcelsior" is a collection of design objects that reflect Latvian cultural heritage, traditions and craftsmanship and includes products like tableware, textiles, furniture and toys.
Still feeling chilled? Warm up with a shot of Riga's Black Balsam herbal liqueur, that should warm you up in no time!
Getting there
Riga is among the cheapest destinations to reach from London, thanks to low cost airlines. If you're hoping to travel in December, catch these flights for only £55 return (direct with all taxes included, but no checked luggage) onboard Wizz Air and Ryanair, departing from Luton and arriving back at London Stansted Airport. This is what we call a "low cost combo" where you combine cheap flights from two different airlines for each leg of your trip.
Imgs: desmondkavanagh, marcus grbac,  / Flickr cc.