Wacky hotels and innovative designs seem to go hand in hand these days, but have you ever considered sleeping in a hotel made of ice, up in a tree or in a concrete cylinder? This is just the start! The days of standard double rooms with stale sheets and bland wallpaper are gone, this is the twenty-first century and hotels are making their mark.
There is of course a hotel for everyone and it's safe to say that standard hotels are going out of fashion, at least among adventure travellers that want to make their hotel accommodations part of the fun. From small and affordable pod hotels in Japan to tree houses atop tamarind trees in China, construction pipes in Austria to igloos in Quebec, these are some of the strangest and definitely coolest hotels around!
Dasparkhotel – Ottensheim, Austria
Constructed out of robust drainpipes, this hotels offers simple and completely revolutionary accommodations to travellers looking for cheap hotels in Austria. Each pipe contains a double bed, storage, light, power outlet, linens and sleeping bag. Nearby is a toilet/shower room, mini-bar and café as well as a common lounge to be used by all the "drainpipe inhabitants".
Open: May-October
Price/night: Pay what you can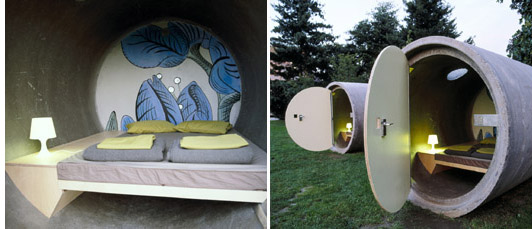 Gamirasu Cave Hotels – Cappadocia, Turkey
Live like the Flinstones for a night in these troglodyte cave houses in Turkey. The located is said to be thousands of years old and was one a Byzantine monastic retreat area. The hotel complex is made up of seven refurbished houses made of volcanic rock which is naturally insulating, keeping rooms cool in the summer and warm in the winter.
Price/night: 95€ in low season / 115€ in high season and holidays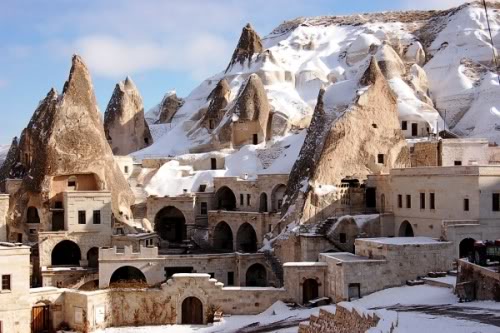 Alcatraz Hotel – Kaiserslautern, Germany
Spend a night behind bars without a criminal record at this prison hotel in Germany. The prison itself was built in the 1800s and has 57 rooms, each with original bars. Guests can even buy a pair of striped pyjamas to really fit the part of an inmate. Like in real prisons, the bathroom facilities are not separate from the room but each has a steel door for privacy.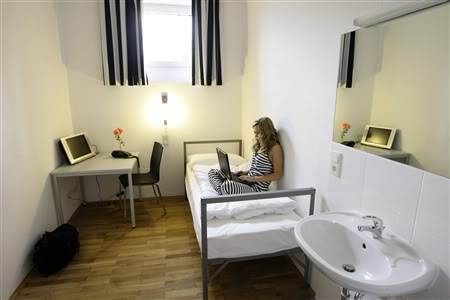 Capsule Hotels – Japan
Located throughout the country, these capsule hotels caught on quick! Guests sleep in small spaces roughly 2m x 1m x 1.25m, just enough room to sleep. Most include a television, power outlet and Wi-Fi connection. Luggage is stored in a nearby locker and there is a curtain for privacy. Guests are sometimes provided with towels, yukatas and slippers for extra comfort. Recently some hotels have started to rent capsules by the month for under or unemployed locals since the real draw to this type of hotel is the price!
Price/night: ¥2000-4000 (approx. £15-30)
Ice Hotel – Quebec, Canada
Located just outside of Quebec City, the Hôtel de Glace has 36 rooms inside a palace made completely of ice and metal framework. It takes 6 weeks to build each winter and needs 15000 tons of ice and 15000 tons of snow. All of the hotel furniture is carved from ice as are the glasses in the hotel bar and the places used for room service. There are standard rooms, themed suites with fireplaces and luxury suites with private spas.
Open: January-March (these dates vary according to temperatures)
Price/night: $350 a person for one night's accommodation in a standard room with queen-sized bed, welcome cocktail (on the rocks), dinner at the hotel restaurant, access to hotel hot tubs ans sauna, buffet breakfast the following morning, use of an Arctic sleeping bag, blanket, pillow and all gratuities.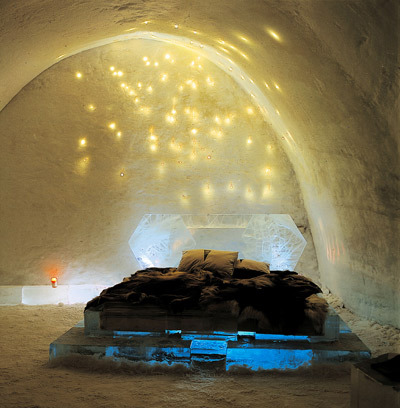 Airplane Suite – Teuge, Netherlands
Converting an aeroplane into a hotel isn't a completely new idea but this one in the Netherlands is by far the nicest and most creative one yet. Parked at Teuge Airport is Vliegtuigsuite, an old German plane that was once used by the government but is now a 4-star luxury hotel suite complete with sauna, hot tub, flat-screen televisions, an on-demand hostess and full access to the cockpit, untouched from its flying days!
Price/night: 350€ for two adults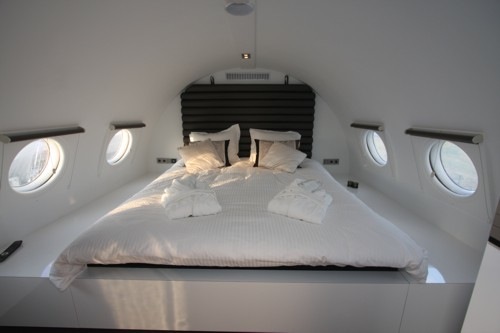 Sanya Nanshan Treehouse Resort – Sanya, China
Robinson Caruso has nothing on these tree houses overlooking the South China Sea. There are 4 houses available for rent located in the branches of old and elegant tamarind trees. Nearby is a long secluded beach and a 5000 acre Buddhist and ecological park complete with temples, pagodas and botanical gardens. Houses are accessed by suspension bridges connecting the houses. Each sleeps 6 adults on two floors. What a great retreat from the bustle of Beijing!
Price/night: 980rmb for the unit (approx. £95)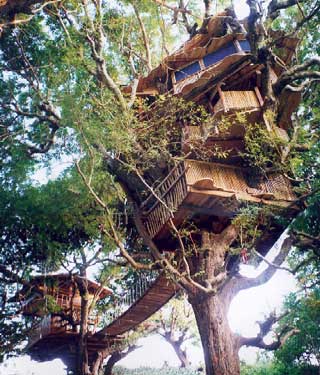 Where's the craziest place you've slept on holidays before? Share your stories with us below by leaving a comment!